Iranian Visual Arts

Qahveh Khanehei Painting (Tea House style of painting)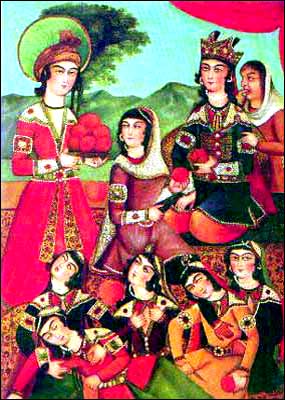 Zoleikha (the Pharaoh's wife) and her copanions while unconcious at the sight of Yousef's beauty;
oil painting on canvas, Qajar period.

Q ahveh Khanehei painting is an Iranian painting style combined with European techniques (oil and color on wall and convass). It was about eighty years ago that this method was formed among laypeople. The characteristic of this art is its popularity and distance from court arts. Unknown artists who had some experience in painting on tiles, were influenced by the atmosphere and ambience of Qahveh-Khanehs , along with Shahnameh-Khani (reading verses from Shahnameh) endeavoured to create simple and beatiful views on the walls of Qahveh Khaneh and on cloths.

Though they did not have any academic instructions, these artists succeeded to occupy a place in Iranian artistic history for themselves. For its presence in narrations and Shamayel gardani (carrying the icons) Qahveh Khanehei painting may be regarded a part of Iranian painting arts. And on other hand due to its distance from painting features it may be considered among visual arts.

But, prior to illustration of this traditional and true Iranian art, we should acquire knowledge about Qahneh Khanehs . These places with their old history have been the keeper of our old traditions, thoughts and tastes. In QahvehKhanehs the narrators of Shahnameh told about natioanl stories with much enthusiasm. Therefore, in the course of long centuries, QahvehKhanehs took many characteristics, which are important for their extensive contact with people. In fact QahvehKhanehs of old days played the role of today mass media. This role had its due rules and traditions, one of which being " QahvehKhane painting".

In this style of painting, one can easily detect some elements of Miniature painting. As narration of stories in its climax incline towards poetry, the paintings of QahvehKhaneh some times tend to delicateness of miniature.

These are not much records concerning the history of this national art, because in its present form, it has been current since eighty years ago. But remaining paintings and plaster moulding indicate that some kind of this art existed in 18th and 19th centuries. For example the paintings on tiles of Chehel Sotun Palace in Esphahan have been worked under Shah Abbass II and Nader, of course most of theme are Shabih Sazi (dramatic) and they are inspired by feasts, while Qahveh Khanehei painting is purely imaginary and the painter does not have any model and what he draws is merely that which goes in his mind.

Observing the present evidences he draws an imaginary picture of, for example, Karbala desert, Ashura epic, and Resurrection day and some epical pictures which indicate the imagination and enthusiasm of painting.


The combat of Rostam and Esfandiar (two mythical characters in Shahnameh), (a part of the tableau), by Mohammad Modabber entitled Ismaeel Kiani,
oil painting on canvas, contemporary period.
Imam Ali and his sons, Hassan and Hossein,
oil painting on pasteboard, by Ibrahim Naghash bashi Isfahani, Qajar period.

Qahveh Khanehei painting which is called Imaginary painting by many people, is an art with its recognized principles. Its main feature is retaining the genuinenes of portraits, in a way that even in dealing scenes of feasts or epics, the painter makes his outmost effort to paint the faces. This feature is due to the fact that " state" and " motion" are limited in this type of painting. In each painting the faces convey the subject intended by painter to onlookers. The painter of this style is an earnest narrator who consciously or unconsciously represents the protagonists or antagonists with due emotions towards them. For example in Rostam and Sohrab, Rostam's face occupies a large place in the painting and this shows the painter's love of Rostam. In a religious painting the face of enemies and vicious people are as ugly as possible.

In Qahveh Khanehei painting there is no limitation of subject and the painter's hands are free to draw whatever he desires. Due to this reason, no painting could be ever considered a criterion for other works. In general one may devide the subjects into three groups: religious, epic, feast and amorous paintings.