Iranian Cinema & Performance Art

Iranian Cinema: Before the Revolution
By: Shahin Parhami, December 1999
Courtesy of www.offscreen.com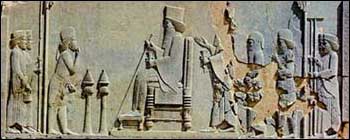 A bas-relief in Perspolis

In recent years, post-revolutionary Iranian cinema has been praised in many international forums. What has attracted international audiences to this national cinema is its distinct style, themes, authors, idea of nationhood, and manifestation of culture. In this essay, I will contextualize the emergence of this new cinema by providing a brief historical background of Iranian national cinema, with an emphasis on the foundations of filmic art in that region.

If one were to trace the first visual representations in Iranian history, the bas-reliefs in Persepolis (c. 500 BCE) would be one of the earliest examples. Persepolis was the ritual center of the ancient kingdom of Achaemenids. As Honour and Fleming[1] state, "the figures at Persepolis remain bound by the rules of grammar and syntax of visual language". This style of visual representation reached its high peak about a thousand years later during the Sassanian reign. A bas-relief in Taq-e-Bostan (western Iran) depicts a complex hunting scene. Movements and actions are articulated in a sophisticated manner. We can even see the progenitor of the cinema close-up: a wounded wild pig escaping from the hunting ground (Omid, p.19). After the Arab invasion and conversion from Zoroastrianism to Islam --a religion in which visual symbols were avoided -- Persian art continued its visual practices. Persian miniatures are great examples of such attempts. The deliberate lack of perspective enabled the artist to have different plots and sub-plots within the same space of the picture.

A very popular form of such art was Pardeh-Khani. Similar to the Benshi of silent Japanese cinema, a Pardeh-khan (narrator) would uncover the painting as the story progressed. Another type of art in the same category was Nagali. A Nagal (or storyteller) would do an entertaining performance usually in Ghahve-khanes (coffeehouses), which were the main forums for cultural interactions between people. As a performing artist, Nagal had to possess a good oratorical and singing voice as well as theatrical talent. Above all, the Nagal relied on his imagination a great deal, to improvise according to the audience's feedback and add to the original tales that he was reciting. He would also acquire inspiration from the images and pictures fixed on the walls -pictures of religious leaders, sport heroes, epic characters- and appropriate them into his narrative. The dominant themes in Nagali were epics depicted from Shah name[2] or the story of Alexander's quest for the elixir of life.

It is worth mentioning that there were many other dramatic performance arts that were popular before the advent of cinema in Iran. Khaymeshab-bazi (puppet show), Saye-bazi (shadow plays), Rouhozi (comical acts), and Ta'zieh (a form of Persian passion play, presentation of tragic dramas based on the martyrdom of Hossein, an extremely important figure in Shi'asm) are just a few examples.[3]

With respect to Iranian perception of imagery, one should be aware of the long tradition in poetry. From Yashts (the ancient Persian Hymns) to post-Islamic Sufi poetry, as well as contemporary Iranian poetry, we can find numerous examples of this fine art of image making. The extravagant use of symbolism and juxtaposition of codes and symbols gives Persian poetry a unique visual sense.[4]

Cinema Reaches Iranian Soil
It was on August 18, 1900 that the first Iranian photographer recorded images of life on celluloid. Mirza Ebrahim Khan Akkas Bashi was the official photographer of Mozaffar al-Din Shah's court, who accompanied the monarch in his first visit to Europe. He was introduced to the "cinematographe" in France while they stayed in Paris in July of the same year to see the Exposition. On the same day of the Exposition, the Shah ordered Akkas Bashi to purchase all equipment necessary for recording and displaying the motion picture in his court. Akkas Bashi took his first images in Belgium while they attended the Festival of Flowers. These images are perhaps the first ethnographic footage taken in the history of Iranian cinema, even though its main purpose was documenting the Shah's visit to Europe.

As we can see, film was brought to Iran by the King as a tool of entertainment for members of the monarchy and the royal court. After seeing the first film of his life, Mozaffar al-Din Shah writes in his travelogue diary:

"....[A]t 9:00 P.M. we went to the Exposition and the Festival Hall where they were showing cinematographe, which consists of still and motion pictures. Then we went to Illusion building ....In this Hall they were showing cinematographe. They erected a very large screen in the centre of the Hall, turned off all electric lights and projected the picture of cinematography on that large screen. It was very interesting to watch. Among the pictures were Africans and Arabians traveling with camels in the African desert which was very interesting. Other pictures were of the Exposition , the moving street, the Seine River and ships crossing the river, people swimming and playing in the water and many others which were all very interesting. We instructed Akkas Bashi to purchase all kinds of it [cinematographic equipment]and bring to Tehran so God willing he can make some there and show them to our servants."[5]

Unlike many other places in the world, where cinema as marketable commodity was used as mass-entertainment medium[6], in Iran cinema circled amongst courtly nobles and the Royal family (like in Japan). Cinematography had to be presented on occasions such as weddings and circumcisions or other festivities in aristocratic settings, usually projected along with French comedy shorts that were imported through Russia.

The first public screening took place in Tehran in 1904, presented by Mirza Ebrahim Khan Sahaf Bashi. He arranged the screening in the back of his antique shop. In 1905, Sahaf Bashi opened the first movie theater in Cheragh Gaz Avenue in the national capital. There were no chairs in the Saloon and audiences had to sit on the carpeted floor, as they would sit in mosques or at Ta'zieh shows. Sahaf Bashi's cinema did not last for more than a month, because of his political activities as a nationalist and an individual who was lobbying for a constitutional monarchy. Also, religious opposition provided the Shah's police with a sufficient excuse to arrest Sahaf Bashi, close down the cinema and confiscate his projector and related equipment. He was soon sent into exile. Perhaps this was the first instance of censorship in the history of Iranian cinema.(Omid, p.870).

Two years later, a few Russian and Armenian immigrants individually tried to establish new movie theaters in Tehran. Russi Khan was the most successful figure among these new cinema owners. With the connections that he held in the Royal court, he could expand his business despite religious contentions. The presence of the Russian Army in the north and Tehran was another support for Russi Khan, since they shared the same nationality and provided an additional market for his enterprise. In 1909, with fall of the Mohammad Ali Shah (heir of Mozaffar al-Din Shah) and the success of the constitutionalists, Russi Khan lost his support. Consequently, his film theatre and photography studios were destroyed by the public. Soon after, other cinema theatres in Tehran closed down.

Movie theatres sprang up again in 1912 with the help of Ardeshir Khan (an Armenian -Iranian). Ghafary, a film historian in Iran, believes it was Ardeshir Khan who fashioned movie theater operation as an organized business. The existence of such an infrastructure encouraged other Iranians to open new movie theaters (Issari. p. 61). Another important person in this era was Ali Vakili, who established a few movie houses and a publication on show business in the late 1920s. Until the early 1930's there were little more than fifteen theatres in Tehran and eleven in other provinces. By 1978 these numbers grew to a 109 in the national capital and 318 in various Iranian cities.[7]

Pioneers of Iranian Cinema
After Akkas Bashi, photographer for Mozafar al'Din shah, and Russi Khan, who was also hired by the Royal family to film court activities, Khan-baba Khan Mo'tazedi was the third Iranian person involved with cinematography. As an engineering student living in Paris, Mo'tazedi found work in a film company. This enabled him to learned how to operate a movie camera and how to process film. With his return to Iran in 1916 Mo'tazedi brought some film equipment (films, camera, projector and processing material). What began as a hobby eventually became his profession.

Mo'tazedi also became a court photographer. He shot a considerable amount of newsreel footage during the reign of Qajar to the Pahlavi dynasty.[8] Mo'tazedi is also credited for being the first person to have arranged a public screening exclusively for women before 1920. From the late 1920's on, Mo'tazedi worked in the Iranian film industry and became one of the major cinema owners of the time. He was also the first to add Persian inter-titles to foreign films.

In 1925 a young Armenian-Iranian, Ovanes Ohanian (Oganianse), a Russian national who studied film in Cinema Akademi Of Moscow, returned to Iran. His goal was to establish a film industry in the country. Since he found it impossible to initiate any production without professionals in the field, Ohanian decided to begin a film school in Tehran. Within five years he managed to run the first session of the school under the name: "Parvareshgahe Artistiye cinema" (The Cinema Artist Educational Centre).[9] Acting and performance, rather than film production, were the cornerstones of the institution.

After five months, with a few of his graduates and the financial help of a theatre owner, Ohanian directed his first Iranian film, Abi va Rabi, (1929). The film, lensed by Mo'tazedi, was shot silent on 35mm black and white stock and ran 1,400 meters long.[10] As Ghafari states: "This film was patterned directly after the comic acts of the Danish cinema couple Pat and Paterson. Iranians had seen [films of] this couple many times in the cinemas and liked them."[11] Abi va Rabi was received well by critics and the public. Unfortunately the only copy of the film burnt to ashes two years after its release in a fire accident in cinema Mayak, one of the first theatres in Tehran.

By the end of the school's second session, Ohanian started his next project, another comedy entitled Haji Agha Aktor-e-Cinema (Haji Agha the Cinema Actor, 1933). The film was a reflexive construction (as appears in its title) about a traditionalist who is suspicious of cinema, but by the end of story recognizes the significance of film art. Haji Agha Aktor-e-Cinema did not do well at the box office. Not only were there technical shortcomings, but additionally, the release of the first Persian talkie (produced in India) diminished its prospects for profit. After the failure of his second film, Ohanian could not find any support for further activities. He left Iran for India and continued his academic career in Calcutta. Subsequently he returned to Iran in 1947, where he died seven years later.

The second Iranian director of that same era was Ebrahim Moradi. As a member of a guerrilla movement (Gangal) in the North of Iran during the late 1920's, the young Moradi sought asylum in the Soviet Union with his father. Moradi lived in Russia for a few years, where he was introduced to the technical aspects of film. In 1929 he established his own film studio called Jahan Nama in a port city by the Caspian sea, Bandar Anzali. Moradi started shooting his first film Entegham-e-Baradar (A Brother's Revenge) about a year later. By 1931, 1700 meters of film was edited but he had no money left for completing his project.

Privy to some information of cinematic activities in the National Capital, Moradi moved to Tehran in search of financial help. Yet the young director never completed his first film. In a few months, however, he started a new project, Bolhavas (The Lustful Man) a melodrama released in 1934. This silent film, which received good reviews, was the last Iranian feature production done within its borders until the end of the second World War.

Sepenta
Abdul Hossein Sepenta, the father of Persian talkies, was born in Tehran in 1907. As a young writer and poet, Sepenta went to India in the mid-1920s to study ancient Persian language and history. In Bombay, his friendship with professor Bahram Gour Aneklesaria (an expert in old Iranian languages) encouraged him to consider the new and developing medium of film. Through his adviser Dinshah Irani, Sepenta met Ardeshir Irani, another elite of the Bombay Parsi community. Irani was the executive director of Imperial Film, and agreed to invest in Sepenta's first Persian talkie. Sepenta began educating himself about the film medium.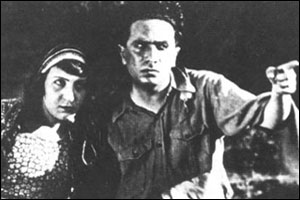 Dokhtar-e Lor (The lor Girl)

He met with Debaki Bose, a pioneer of Bengali cinema who was also interested in representing his culture in a new, epic form. After an introduction to the theory of film, Sepenta started writing his script, with Ardeshir Irani as technical supervisor. Irani also co-directed the film. Dokhtar-e-Lor (The Lor Girl)[12], the first Persian talkie to be released, is the product of this interaction. The film was an absolute success and stayed on Iranian screens for more than two years. Imperial film was so impressed by the success of the talkie that they offered Sepenta production control over another film. Sepenta made four more films for Imperial Film: Ferdousi (1934), Shireen va Farhad (1934), Cheshmhaye Siah (Black Eyes) (1935) and Leyla va Majnun (1936). Interestingly, he also made one film for the East India Film Company in Calcutta. All of his films dealt with the glorification of the old Iranian culture or the optimistic future of a modern Iran.

Sepenta returned to Iran in 1936 with the hope of establishing a film company with the help of government and private sector funding. Unfortunately, he failed to mobilize any support from either party. Due to his mother's sickness and his financial situation Sepenta was forced to stay in Iran. To support his family he started working in a wool factory in Isfahan. Sepenta remained productive, publishing eighteen books and five films, and, as chief editor of two magazines, writing many articles on art and culture. At the age of 62, three years before his death in 1968, Sepenta tried his hand at film once again. But this time in a manner far from the epic form of his earlier work. With a simple 8mm camera Sepenta recorded the everyday reality around -footage which was has never been released for public screening.




Endnotes:
Honour, Hugh and John Fleming, The Visual Arts: A History. New Jersey, Prentice Hall Inc, 1992. Page: 96.
Shahname or Book of kings a vast epic based on pre-Islamic history and mythology by poet Ferdausi (10 century CE) in verse form.
A great introduction on art and in entertainment in Iran before the advent of cinema is provided in M. Ali Issari book: Cinema in Iran: 1900-1979 pages: 40 -67.
This exert from a long poem can be a good example of such visualization, written by Sufi poet Maulana Jalaluddin Rumi 13 century CE)



Am I now I am as liquid
wine on fire
turned vaporizing
to fire at the touch of your mouth
blazing even on the glass that holds me....
in your cup?
You have not asked me he
-this I know.
No door have you opened to me.
It seems
I have been poured
into your wine glass
as by accident
or as one small piece
of some cosmic joke.
In the heat
of your breath
I have become
nothing that I know.
[From the book In Praise of Rumi by Ryan, R.S. Prescott, Homhm Press, 1989 page: 6.]
The translation of the travelogue in Issari's book: Cinema in Iran: 1900-1979 pages: 58-59
Roy Armes, Third World Film Making and the West. page 55.
Related figures are in Mehrabi's book The History of Iranian Cinema. page: 482 & 489.
Mo'tazedia also made one of the first fiction(a short comedy)in three reels. But there is no record or description of this film in available sources on Iranian film history the only mentioning of this film is in M.A Issari's book Cinema in Iran, page: 96.
Government does not permit 'school' as part of the title because cinema and film is not yet considered as a serious subject to be studied at school. Omid, page: 42.
Omid, page: 44.
Ghafary in Issari page: 97.
The title of the film before its first showing in Tehran changed to Dokhtar-e Lor ya Irane Diruz va Emruz (The Lor Girl or Iran of Yesterday and Today.