Geography of Iran

Ali-Sadr Cave
The most amazing water cave in the world
Extracted from: Mehrabad Magazine, 1384 (2005) no.2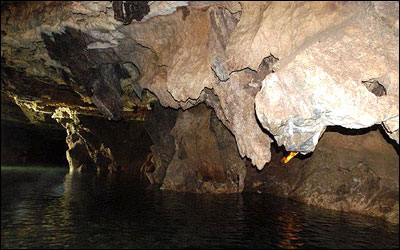 Ali-Sadr Cave near Hamadan

One of the most beautiful and most unique natural phenomena in the world is the Ali-Sadr cave in the Hamadan province, Iran, views of which attract visitors' interest and attention. This huge cave is located 75Km due northeast of city of Hamadan in the heart of mountains called Subashi in the Kaboudar-Ahang town.

After entering the cave we face a relatively vast area, about 270m2, in which we can rest a while and wait for our turn. Passing through a wide path, we arrive at a wharf. From there onward, we should use boats for our excursion.

Along the water canals, which are between 2 to 50 meters wide, we face a good number of labyrinthine halls. All the routes of this cave end in a vast central square called The Island. This square, which has an

Area of approximately 750 m2, is located at the distance of 350 meters from the wharf from which all the branches originate. One of these branches, through which the boats pass, has the length of 2.5Km. in this part the roof, which is 10 to 20 meters above the water level, is covered by calcium Carbonate sediments. Stalactites (icicle-shaped formations of lime hanging from the roof of a cave, formed by the steady dripping of water containing minerals) in different colors double the beauties of this unique cave. Besides, the most astonishing stalagmites (formations of lime extending upwards like a pillar from the floor of a cave as water from a stalactite drips into it) can also be found in this wonderful, marvelous cave. These are seen in the shape of cauliflowers, needles and umbrellas, in colors of red, purple, brown, green and blue. Ali-Sadr is the only yachting cave with waters so clear that we can see to a depth of 5 meters even in a dim light.

Beside the natural significance of this unique phenomenon, it should be pointed out that the discovery of historical tools and works of art aging thousands of years, including jugs and pitchers, indicates that humans lived in this place since 12000 years ago. Furthermore, the paintings of deer, gazelles and stags, the hunting scenes and the image of bow and arrow on the walls and passages of the exit section and prove the point that at the primitive historical ages and in the hunting era man was living in this cave.

The age of this cave is 70 million years and now more than 16Km of its water and land routs have been explored, yet not all the routs are known and the exploration is continuing. The efforts have been somehow successful and in some cases new passages and water routs with lengths of about 10 to 11 Km have been found, some of these canals have even led to dry land finally ending in a lake, after long distances.