History of Iran

Seyed Mohammad Khatami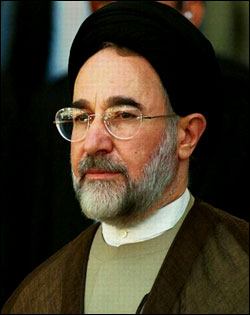 Seyed Mohammad Khatami

Seyed Mohammad Khatami, the fifth president of the Islamic Republic of Iran, was born in Ardakan, in the central Province of Yazd in 1943. Son of respected Ayatollah Ruhollah Khatami, President Khatami finished his early school years in his homeland. Then he attended Qom Theology School in 1961. Later, he got his BA in philosophy from Isfahan University, accomplishing religious studies in senior level at Qom Seminary. In 1970 he entered the Univerity of Tehran and graduated with an MA, he returned to Qom later to follow up his philosophical studies at Qom Seminary.

President Khatami was involved in political activities and anti-Shah campaign. He began his political activities at the Association of Muslim Students of Isfahan University, worked closely with Ayatollah Khomeini's late son, Hojjatoleslam Ahmad Khomeini and Martyr Mohammad Montazeri and organized religious and political debates.

After the revolution in 1979 he replaced Ayatollah Dr. Beheshti as Head of Hamburg Islamic Center in Germany.

He represented Ardakan and Meibod constituencies in the first term of Majlis [Parliament] in 1980. He was also appointed head of Kayhan newspaper institute by late Ayatollah Khomeini in 1981, where he later resigned.

In 1982, he was appointed as the minister of culture and Islamic guidance during the premiership of Mirhossein Mousavi. During the 1980-1988 war with Iraq, he served different responsibilities including deputy and head of the Joint Command of the Armed Forces and chairman of the War Propaganda Headquarters.

He was once again appointed as the minister of culture and Islamic guidance by President Ali Akbar Hashemi Rafsanjani in 1989. Following his resignation in 1992, Khatami was appointed as cultural advisor to President Rafsanjani and head of Iran's National Library. In 1996 He was appointed as a member of High Council for Cultural Revolution by the Leader of Iran. As President he is the head of the council.

He got married in 1974 and has two daughters and a son.

President Khatami speaks English, German and Arabic in addition to Persian. He has written a number of books and articles in different fields:
To Whom Does Velayat Belong? (Article 1979)
Tradition, Modernism and Development (Article 1996)
Fear of the Wave (Book)
From the World of the City to the City of the World (Book)
Faith and Thought Trapped by Despotism (Book)
President Khatami was elected as the fifth president of the Islamic Republic of Iran in May 1997 elections by gaining almost 70 percent of the votes cast. And he was re-elected as president in 2001 election by greater mandate of Iranian people (almost 78% of the vote cast).




Iran after the victory of 1979's Revolution