Music of Iran

Ali Asghar Bahari
A very great master of radif and Kamancheh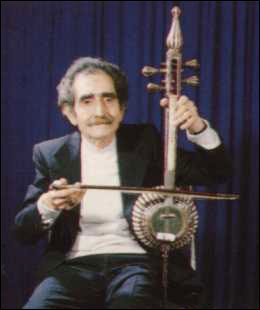 Ali Asghar Bahari

Ali Asghar Bahari was born in 1905 in Tehran among a family of poem and music lovers. He started his first lessons with Mir Ali Khan (his grandfather), Reza Khan, Akbar Khan and Hassan Khan (three of his uncles) on Kamancheh, and Rokn o-Din Khan and Reza Mahjoubi on the violin.

Bahari, a master on kamancheh at the age of 18, was invited to play in Ebrahim Mansouri Orchestra and from that time he was known as a well skilled Musician on Iranian music. After the arrival of foreign instruments and introducing the violin, kamancheh was rejected and so Bahari started to play violin too.

In 1953 Bahari joined Radio Iran and used Kamancheh after so many years, later started to work with "Company of National Instruments" under guidance of Faramarz Paivar, Shahnaz and Tehrani. Bahari was invited to teach Kamancheh at the conservatory of music under the management of Late Rouhollah Khaleghi in 1957. He later taught his skills at the "Center of Preservation and Development of Iranian Music" of Tehran University, where he could train many talented Kamancheh players. Davoud Ganjei, Hadi Montazeri, Mohammad Moghadessi, Mehdi Azarsina and Ali Akbar Shekarchi could be named among his students.

In 1967 Bahari was invited by Radio France to Paris to record some of his music. He composed many pieces for Kamancheh in his artistic life. He passed away on June 10, 1995 in Tehran.