Art & Culture of Iran
This is a comprehensive section, which pays attention to Iran's culture, cultural events, music and musicians, visual arts and artists, Iranian cinema, Persian language and literature, writers, poets and their biographies. Iranian old scripts and their fonts, museums and galleries, Iranian cuisines and their recipes, religions and rituals, Persian carpet, architecture and monuments ...




History of Iran
This section covers the history of ancient Iran (Persia), birth of the Iranian (Persian) Empires, ancient Imperial Armies, historical inscriptions. Greek, Arab and Mongolian invasions, Iranian identity challenges, rebirth of Imperial Iranian dynasties, Persian Gulf and its history. Movements and revolutions, battles and wars, contemporary events and historic personalities. Articles and photos ...




Iran's Guide
In this section attention's gone to Iran's cities and provinces, geography, government and laws, Constitution of Islamic Republic of Iran, flags and national anthem, Iranian embassies abroad, Iranian all times personalities, dialing codes, media and sport, education and higher education, universities in Iran, Iranian people and tribes ...


Forough Farrokhzad, possibly Iran's most noted and controversial female poet. She clearly voices her feelings in the mid-1950s about ...


Exhibitions and Conferences
Iranian art, Culture and History ...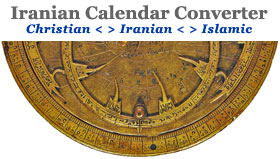 Up-To-The-Minute Headline News of Iran by different news providers from around the world.