Iranian Cinema & Performance Art

Mohsen Makhmalbaf
Film Producer, Director, Screen Writer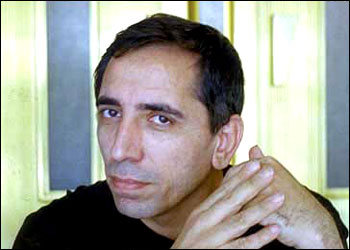 Mohsen Makhmalbaf

Mohsen Makhmalbaf was born in a poor neighborhood in southern Tehran in 1957. While still an adolescent, he dropped out of school to form an Islamic militant group and join the clandestine fight against the Shah's regime. He was arrested when he was only 17, and was serving a five-year sentence when the 1979 Revolution brought an Islamic regime to power.

The revolution that freed him from prison also unleashed his creative energies. He turned to writing novels and stage plays, and in 1982 made his first film, Nasouh Repentance, about a bank clerk who seeks true repentance while facing death. This was the first in a trilogy of highly didactic films with strong religious themes and poor cinematic quality. In fact, making the trilogy also provided Makhmalbaf with his basic film training. His fourth film, Boycott (1985), set in a prison for political activists of different convictions, continued to glorify Islamic values.

The Peddler (1987), a film that brought Makhmalbaf international attention, was the first turning point in a career full of twists and turns. In this moving three-episode film about a society caught in a web of moral and social decline, as well as in several subsequent films, Mahkmalbaf began to seriously question the values he had dearly espoused in his earlier films. The Cyclist (1989) traces the plight of a poor Afghan man forced to ride his bicycle continuously for a week to raise money for his ailing wife's treatment. Marriage of the Blessed (1990) is about a bitterly disillusioned war veteran on the verge of mental breakdown.

Makhmalbaf became a controversial figure when the two films he made in 1991, A Time of Love and The Nights of the Zayandeh-Rood, were banned for dealing with physical love and raising doubts about the revolution. The same fundamentalist groups that had championed him earlier as a truly devout Islamic filmmaker began to turn increasingly against him.

Nasseredin Shah, the Movie Actor (Once upon a Time, the Cinema -1992), an affectionate look at the history of Iranian cinema, and The Actor (1993), an uneven comedy about a childless couple, revealed the lighter side of Makhmalbaf's creative character. But it didn't take him long to go back to his penetrating explorations of social realities in the disturbingly self-reflexive Salam Cinema (1994) - the cinema verite-style account of an audition that turns into a meditation on the corruption of power.

Two of his recent films, A Moment of Innocence (Bread and the Vase) and Gabbeh, also were kept from distribution in Iran after their initial screenings in the 1996 Fajr Film Festival, an annual showcase for domestic films. Gabbeh, a captivatingly lyrical saga of a woman and her romantic longing in a nomadic setting, was released domestically only after its successful festival run and a string of European openings, but A Moment of Innocence, a thought-provoking essay about the nature of truth, remained shelved for two additional years. The film recalls a traumatic chapter in Makhmalbaf's youth that led to his imprisonment for stabbing a policeman.

In 1998, he went to Tajikistan to make The Silence, about a 10-year-old blind boy supporting himself and his mother by tuning stringed instruments. He also helped his 18-year-old daughter, Samira, make her film debut The Apple, a documentary-style fact-based tale about two teenage sisters confined in their house by their blind mother and destitute father.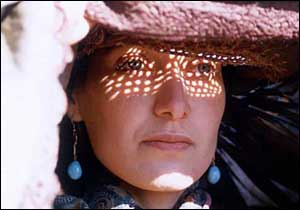 Kandahar, 2001

In year 2001, he released Kandahar, which captured the attention of the world after September 11 terrorist attack on World Trade Center in New York.



Makhmalbaf's works:

Nasuh Repentance (Tobeh Nasuh), 1982
Two Blind Eyes (Do Cheshme Koor), 1983
Fleeing from Evil to God (Az Sheitan Be Khoda Panah Bordan), 1984
The Boycott (Tahreem), 1985
The Peddler (Dastfroush), 1987
The Cyclist (Docharkhehran), 1988
Marriage of the Blessed (Arousi-e Khoban), 1989
Time of Love (Nobate Asheghi), 1991
Nights of Zayandeh-Roode (Shabhaie Zayandeh-Rood), 1991
Once upon a Time, Cinema (Nasseredin Shah, the Movie Actor), 1992
The Actor (Honarpishe), 1993
Stone and Glass (Sang va Shisheh)-Short film-, 1994
Salam Cinema, 1994
Gabbeh, 1996
A Moment of Innocence (Nan va Goldoon), 1996
Silence (Sokoot), 1998
Kandahar, 2001

Official site of Makhmalbaf Film House (www.makhmalbaf.com)