History of Iran

The History of Iranian Air Transportation Industry
By: Abbas Atrvash, January 2008


Iranian Mythical Flights
There are numerous mythical stories in relation to the flight of kings and heroes depicted in poetry in the famous book of Shahnameh, The Epic of Kings: The Hero Tales of Ancient Persia, created by famous Persian poet, Hakim Abol-Ghasem Ferdowsi Toosi (940-1020).

Several references have been made in Shahnameh to giant rocs, eagles and demons or "deev"s, which have flown the Iranian kings and heroes. The most popular myths are about the flights of two kings, Kaikavoos and Jamshid and the Iranian hero, Rostam.

Mythologies aside, it is thought that some other experiments in relation to human flights may have been attempted throughout the ancient Persia, which have not been recorded.

First balloons and airplanes in Iran
Although the stories in relation to the events of sending balloons to the air, have been recorded in different versions, but it is certain that the first event at which this flying object was sent into the air in Iran occurred in 1891. These events took place during the reign of Nasseredin Shah (1848-1896,) a king of Qajar dynasty that ruled in Iran prior to Pahlavis, the last of the Iranian empire.

Then around the end of 1913, one day the people of Tehran for the first time saw an airplane flying over the city. The residents were taken to the streets to have a closer look at the strange bird. The airplane landed at a ground, then known as Meidan Mashgh, the army exercise field in the city center. On landing, it knocked the barrel of a canon in the field and became damaged. This airplane, a Bleriot XI, was flown into Tehran from Russia by a Russian pilot.

This aircraft later was repaired at the army repair shop with help from Iranian army technicians and flew back to Russia.

The eight phases of Iranian air transportation and airlines
According to the book, The History of Iranian Commercial Aviation, published in 2007, in just over 80 years, from 1923 till now, the Iranian air transportation and airline industry has gone through eight periods:
1923 - 1927: Iranian Air Force
1927 - 1932: Junkers Airlines in Iran
1932 - 1938: Absence of commercial air transport
1938 - 1946: The airline of the Ministry of post and telegram or "Iranian State Airlines"
1945 - 1961: Iranian Airways and Persian Air Services
1961 - 1962: United Iranian Airlines
1962 - 1979: Iran National Airlines (Iran Air), the flourishing years
1979 - Now: Post Revolution, the era of multiple airlines
1. 1923 - 1927, Iranian Air Force
Looking at the aviation history of a number of countries reveals that their air force has performed a noteworthy role in the early formation of their commercial air transportation. Iran is one of them. In fact the first Iranian non-military passengers were flown in an air force plane. And before Iran's commercial airlines started operation, Iranian Air Force planes carried mails, small freights and occasionally civilian passengers. At the early stages of the Iranian commercial airlines some of the pilots were active air force officers and years later, even in subsequent years, a number of airline pilots were former air force pilots. More often than not Iranian air force, in the absence of a national airline, officially allocated aircraft and the necessary personnel exclusively for the transportation of government and military executives between Iranian cities.

Thus, considering the air force participation in providing civilian air services would make it appropriate to start the history of the Iranian air transportation with giving a short account of the Iranian Air Force that was established before Iranian commercial aviation was even existed.

The Iranian Air Force, later called the Imperial Iranian Air Force until 1997, has its own fascinating history and deserves special attention beyond this article.

In 1921 when the historical coup d'état ended the Qajar dynasty, the Iran's ruling family for130 years and Reza Khan, later Reza Shah, came into power as the commander of armed forces, he contemplated initiating an Iranian Air Force. Due to the situation in the country during early1920s, the military airplanes deemed highly valuable in chasing the mutinous groups in different parts of the country.

When it was decided to set up the air force, initially only two persons, Reza Mizani, a non-military government employee and another person were appointed to this project. A small office was allocated to them in the military head quarters to start a feasibility study of creating the air force. At this stage, the military had neither the aircraft nor the pilots.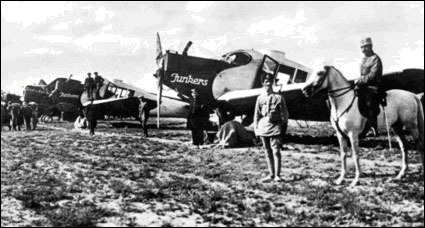 Junkers F13 in Tehran, 1923-1924

First air force aircraft
The mission of acquiring aircraft for the air force started in 1922, when the Iranian government approached the US administration to negotiate purchasing of American military aircraft and the training of pilots and technicians. Americans rejected the request, on the ground of their commitments to the peace treaties they had signed with other countries.

As a result, Iran turned to other countries such as Germany, Russia, France and later Britain.

The story as to when the first aircraft was acquired by the Iranian government for the newly established air force is, somehow, ambiguous. But what is certain is that one German made Junkers F13 was purchased and brought to Iran. Also later, in 1923, due to government shortage of funds, people of Gilan and Mazandaran, donated sufficient money to enable the government to purchase two more Junkers F13. In appreciation of this patriotic move, the airplanes were named after these two provinces.

At the time, the Junkers F13s were among the World's best airplanes, from the military and transport point of view. The production of this World's first all-metal aircraft started in Germany in 1919.

Between 1923 and 1925, an array of diverse types of airplanes built by different countries was added to the air force fleet. Among them British DeHaviland Avro 504K (or Avroshka,) some assembled in Russia as well as French built Spad 42, Breguet 14 and 19 as well as Potez 8. However, in spite of this growing fleet, the air force still did not have Iranian pilots to fly them.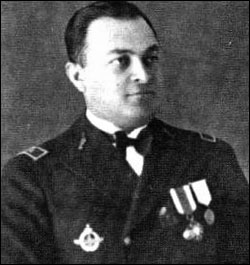 Col. Ahmad Khan Nakhjavan

First Air Force Pilots
Following the sale of aircraft by France and Russia, these two countries were chosen for air force pilots and technicians training. In June 1923, the first group of officers was dispatched to France for training. Among them, the first officer who was selected to be trained as a pilot was Col. Ahmad Khan Nakhjavan. In June next year another 10 officers were sent to Russia for the same purpose.

Col. Nakhjavan, after completing his training, took off from Paris on one of the Iranian Breguet 19 airplanes marked with Iranian flag and logo. He landed at Ghaleh Morghi airfield, on 25th of February 1925 (5th of Esfand 1304.) This officer earned the title of Iran's first pilot. He was later appointed the first commander-in-chief of the Iranian air force.

Out of the group of 10 officers, who went to Russia, three were ready to return to Iran after 18 months of training. According to Issa Eshtodakh, a military student (later an air force major general and director general of Iranian Civil Aviation Organization) three pilots were assigned to fly three DeHaviland DH 9A airplanes purchased from Russia to Tehran.

Upon departure for Tehran, one of the three planes crashed on takeoff, therefore, that flight was terminated in Baku and its pilot, 1st Lt. Ali Akbar Aminzadeh with his airplane crossed the Caspian Sea by ship to north of Iran.

The other two, 1st Lt. Sharaf-e-din Ghahremani and Issa Eshtodakh took off for Tehran, but due to harsh weather and a number of incidents they had to spend a long time in Ghazvin. This time Ghahremani's plane was damaged on last takeoff and had to be carried on truck to Tehran. Eshtodakh, spent extra week and took off on February 27, 1925 and arrived in Tehran after two hours. He was considered the second Iranian pilot who flew into Iranian territory, though if it was not due to bad weather, he would have arrived before Nakhjavan.

Iranian Air Force, from a humble beginning in 1921, as a small department of the army, grew to become one of the World's outstanding, strongest and technologically advanced air forces. The Iranian Air Force consisted of an exceptional group of highly qualified, educated, skilled and brave officers and pilots. It owned a large fleet of sophisticated fighter aircraft, military transports and other type of specialized aircraft and equipments.

2. 1927 - 1932 Junkers Airlines in Iran
February 8, 1927 marked a milestone in the history of Iranian commercial aviation. On this day Junkers, officially, started the Iran's first two-weekly scheduled passenger air services from Tehran to Bandar Pahlavi (now Anzali) and two-weekly flights to Ghasr-e Shirin.

In 1927 when the air transportation was at its early stages and air travel was still a novelty in Europe and the U.S., having scheduled services in Iran was a new phenomenon. When Junkers air services started, our railways were still being built, therefore, these services proved to be extremely precious.

Junkers Company was established in Germany in 1895 and originally manufactured thermodynamic products. Professor Hugo Junkers the founder is known as one of the most prominent German aviation pioneers, who built his first aircraft, the J1 in 1915.

In February 1922, under an agreement signed with the newly formed Soviet Union, Junkers erected a factory in Fili and started assembling aircraft. Subsequently, Junkers Luftverkehr Russia (Junkers Airlines in Russia) was founded to undertake the air transport services. However, later when Russians eventually initiated their own airline in 1924, Junkers airlines activity in that country discontinued and its attention was focused on Persia (the name Iran was known with at the time).

In September 1924, Junkers contacted Iranian Government with a proposal to operate postal services between Baku and Badndar Pahlavi. While this proposal was still under review by Iranian government, Junkers started experimental non-scheduled flights between Baku and Tehran, by using the traffic right already granted to it. The first flight took place on December 20th, 1924. Above-mentioned operations continued until March 1925. Finally, In 1926, Junkers signed a five-year agreement with the government to set up an airline to provide air services within Persia. This project started after the Iranian parliament passed a bill and approved the right for internal services and among other things; it was included in the agreement that Junkers also set a school to train pilots and technicians. But this part never materialized.

Junkers established and registered the company as Junkers Luftverkehr Persien, or in Persian Havapeimai Yunkers dar Iran or Junkers Airline Company in Iran. In May, 1927, the company chose a piece of land at Doushan Tappeh to be used as its base airport.

The company used one-engine Junkers F13 aircraft with a speed of 105 mph (160 kph) a popular commercial aircraft in the postwar years. This airplane carried two pilots and four passengers. Junkers Company started with scheduled flights from the beginning and carried passengers, freight, mail and parcels.

First Scheduled Air Services The first services were launched in two directions, one from Tehran to Bandar Pahlavi (today's Bandar Anzali) in the north and the other to Ghasr-Shirin via Hamedan and Kermanshah, in the west.

The northbound route was again extended to Baku in Azerbaijan in February 1928, and the westbound route continued to Baghdad. Subsequently, three more routes were added, a southwest route to Bushehr via Esfahan and Shiraz, a northeast service to Mashhad and northwest to Tabriz via Ghazvin.

Between 1927 and 1932, Junkers played the role of a small internal, and regional airline and carried a considerable number of passengers and amount of cargo and mail. It served at least 10 cities in Iran by weekly regular flights as well as to Baku, Baghdad Kabul. Junkers also arranged for the first time, for the Iranian airmail to be carried from London, Paris, Vienna (via Berlin,) Moscow to Baku, and from Baku to Iran by its own aircraft.

3. 1932 - 1938, Absence of Commercial Air Services The six years interval between 1932, the year Junkers operations ended and 1938 that the government formed an airline, there was no civilian air transportation or commercial airline existed in Iran. However, the Air Force occasionally provided postal services and randomly transported some civilians passengers, particularly the government official and employees.

4. 1938 - 1946, The airline of the Ministry of post and telegram or "Iranian State Airlines" The Iran Ministry of Post and Telegraph was always the responsible department for the carriage of the country's airmail from outset. In fact the Ministry was involved in air transportation from 1924, when airmail service was first introduced in Iran, before Junkers began services. The ministry often operated non-regular flights to distribute the mail across the country by using the air force aircraft.

After Junkers, the government prepared a plan that ministry of post acquires airplanes to be handled, maintained and flown by the air force. Accordingly, two De Havilland DH 89s (also known as Dragon Rapide) were purchased and later increased to four aircraft. The DH 89 prototype had its maiden flight in Britain, on April 17, 1934. The D.H.89 production was continued for ten years, and was one of the widely used transport aircrafts in the world. The twin-engine Dragon Rapide had a range of 578 miles; it could fly at a cruising speed of 132 mph at an altitude at 19,500 feet and carry up to 8 passengers. A distinguishing characteristic of this aircraft was its large windows.

Two air force pilots were also sent to England to be trained exclusively for these aircraft. The airplanes were shipped to Khoramshahr and then to Tehran. After being assembled in Tehran they were ready for action, the first services were set between Tehran and Baghdad.

According to the book of "A History of The World's Airlines" which regrettably has allocated only few lines to Iranian airlines history, the Ministry of Post and Telegraph organized the airline, which outside Iran was known as "Iranian State Airlines" and its scheduled services started on March 15, 1938 and operated once a week on Tehran-Kermanshah-Baghdad route. Later another service between Tehran, Esfahan, Shiraz, and Bushehr was added. This airline also carried passenger on its regular airmail flights. This operation rendered valuable service during the 2nd World War, by providing air transportation. For operating this airline, the ministry received some help from Imperial Airways.

Although this was a limited operation with a small number of airplanes it did an efficient and productive job. Iranian Sate Airlines carried out its operations until 6th April 1946, when the Iranian Airways operations began and the new company provided its predecessor services.

5. 1946 - 1962, Iranian Airways and Persian Air Services In December 1944, a group of influential and affluent Iranian investors formed the Iranian Airways as a private company. A few of these partners were also founding partners of Irantour, the first Iranian travel and tour organization, which had started business prior to Iranian Airways.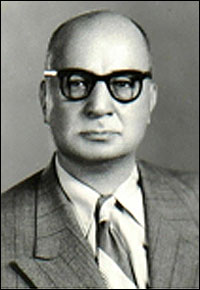 Reza Afshar

The leading man behind the original concept and establishing Iranian Airways was Reza Afshar, a prominent politician and a shrewd businessman, who was also one of the main founders of Irantour.

Born in Rezaiyeh (Urumiyeh,) a northwestern city of Iran, on October 10, 1887, he studied Persian and Arabic until age 17 and later graduated from American College in Rezaieyeh. In 1909, he traveled to the US and attended Wooster College in Ohio and Valparaiso University in Indiana, but finally ended up in Columbia University in New York and graduated in Political Economy and Public Finance. He returned to Iran in 1917. In his youth he was a political activist and later, at different periods he held government positions such as minister of road, member of parliament ad the governor of Gilan, Kerman and Esfahan.

The other active partner of the newly established airline was Gholam Hossein Ebtehaj, a former mayor of Tehran, who was simultaneously, managing director of Irantour and Iranian Airways. In his youth, Ebtehaj was educated in France, Lebanon and Iran.

Simultaneous with the forming Iranian Airways an agreement for technical assistance was signed with Trans World Airlines (TWA). In turn, TWA bought 10% share in Iranian Airways.

Buying the First Iranian Commercial Aircraft Around the end of March 1945, the new company purchased its first three aircraft. These airplanes were American's surplus military C-47, also known as DC-3s and Dakotas, which were used during the Second World War. From then on, the airline continued buying more DC-3's and at one point the number stood at 20. The DC-3 planes were undoubtedly one of the most famous and best aircraft aviation had in many years, some of which are still flying.

The first schedule flights started from Tehran to Mashhad and followed by Tehran-Esfahan-Shiraz (overnight) - Bushehr-Abadan-Ahwaz and limited flights to Zahedan. Meanwhile, at the time, none of the airports other than the Tehran and Abadan, were adequately operational.

When Iranian Airways decided to operate international flights, obviously Cairo and Baghdad would have been two popular destinations to be considered first.

At the outset, most pilots and technical personnel were American. However, at the end of 1946, for the first time three pilot officers, Col. Mostafavai, Major Khademi and Captain Rafat, were assigned from the Air Force to fly with Iranian Airways. About the same time another Iranian, Daryoush Timsar, joined the company as a co-pilot. He did not come from the air force, but was trained at Iranian Aero Club. The Club was established a few years earlier in 1938 and over succeeding years trained a considerable number of young men and women to fly.

The first three women who were licensed to fly at that time were Effat Tejaratchi, Ina Afshid (or Avshid) and Sadigheh Dowlatshahi.

When Iranian Airways officially started its flight, it chose Mashhad as its first destination. Everything was ready for the first flight, passengers were booked. However, when the staff was ready at Mehrabad Airport to start the check-in procedure for the 7 am departure, there were no passengers to be carried. All passengers were attracted by Russians who offered them low airfares and flown on the Russian C47 (DC-3) aircraft that were given to them by Americans to be used in their battle against Nazi Germany.

In the summer of 1946, Iranian Airways was operating services to Baghdad, Beirut and Cairo. About the same time since immigration to Israel was growing therefore Iranian Airways also operated a few flights to Tel Aviv's Lydda airport. Subsequent to the start of the internal and regional flights, the company introduced its first international flight to Paris via Beirut and Athens and opened its first office outside Iran in Paris, in April 1947.

Few months into the Iranian Airways activity, G.H Ebtehaj, to everyone's surprise appointed a 24-years young man, by the name of Houshang Tajadod as his second strongman in Iranian Airways. From then on he became an icon of Iranian airlines industry and key member of the top management in Iranian Airways its successor Iran Air from 1946 until 1982, when he retired from the airline industry.

After a while the TWA contract was terminated and a French company, Cie General de Transport (CGT) got involved to provide technical assistance.

In 1949, Reza Afshar took over 70% of Iranian Airways ownership and after G.H Ebtehaj, while he was still the chairman of the board; he also assumed the responsibilities of the managing director. Among his first decisions he cancel the contract with the French, CGT.

In 1953, one of the lesser known American carriers, Trans Ocean Airlines leased two Convair aircraft to Iranian Airways. As a part of its agreement, Trans Ocean also provided assistance in a variety of fields such as operations, maintenance, sales, administration and finance. In addition to DC-3 aircraft, and the leased Convairs, Iranian Airways, also, owned some Skymasters, DC-4's, and DC-6's. In 1958, the government bought three Vickers Viscounts, modern turboprop aircraft and put them at the disposal of Iranian Airways. In those years, the Viscounts were considered a sort of luxury airplanes. Iranian Airways operated to 14 internal and ten regional destinations, in Afghanistan, Pakistan, India, Iraq, Saudi Arabia, Syria Lebanon as well as Dubai and Kuwait in Persian Gulf. Its international destinations were Ankara, Milan, Zurich and Frankfurt, where it only operated cargo flights.

Trans Ocean contract was terminated in 1961.

Until 1958, all Iranian Airways ticket offices in Iran and most of its offices abroad were run and managed by general sales agents (GSA.) Within Iran, Irantour was the exclusive GSA for all cities, including Tehran. However, except in Tehran all other offices were subcontracted to a third parties. Starting March 1958 Iranian Airways decided to take over its offices in certain cities in Iran from Irantour and managed them by its own people. Abadan was the first city followed by Shiraz and Esfahan.

Iranian Airways served for 16 consecutive. During these years, although the company had many ups and downs and numerous difficulties nevertheless, it managed to stay in business. However, due to lack of financial strength the company couldn't make the necessary improvement and modernization of its fleet and quality of service. Iranian Airways did not grow swiftly enough to reach the ideal level of meeting the demand and expectations of Iranian traveling public. The other major troubling concern that encouraged the government to nationalize the airline was the lack of adequate safety and a number of accidents. The airline had quite few accidents in 1950s. Only three crashes in 1950 and 1951, followed by an unfortunate fourth one in 1952 with a 27 fatalities, at Mehrabad Airport. These unfortunate accidents, which were above average for an airline of this size, jeopardized the company's reputation. And finally when it was concluded operating a desirable international flag carrier was beyond the ability of the private sector, it was decided to nationalize the airline industry in Iran.

Persian Air Services The second airline operating at same time with Iranian Airways was Persian Air Services. This predominantly cargo airline was founded in 1954 by Ahmad Shafigh, the company managing director. PAS began operations, by receiving technical support from a British aviation company called Skyways. Persian Air Services operated European cargo service from Tehran via Abadan to Beirut, Brindisi and Basle. It also operated some Tehran-Geneva flight by Avro York under charter with Trans Mediterranean Airway (TMA,) a Lebanese successful all cargo airline. Later PAS became associated with SABENA, the Belgian national airline. SABENA leased DC-7C aircraft to PAS, which enabled the company to provide direct passenger service to Geneva, Paris, Brussels and London.

6. 1961 - 1962, United Iranian Airlines The United Iranian Airlines had the shortest days in the history of Iran's commercial aviation.

In August 1961 just few months before the formation of Iran National Airlines, Iranian Airways and Persian Air Services were merged to make United Iranian Airlines. Although, the short time merger seemed to be more of a formality than a practical step and nothing was actually changed in day to day operation, yet the fleet livery illustrated the name of the new company.

7. 1962 - 1979, Iran National Airlines (Iran Air), the flourishing years The new Iran National Airline Corporation, in Persian Havapeimai Melli Iran or "Homa" (the acronym of its Persian name) -- internationally known as IRAN AIR -- was founded in February 1962. A decree was passed by the parliament to allow the new company to take over the United Iranian Airlines, by acquiring all its assets, which were the combined resources of Iranian Airways and Persian Air Services.

Major General Ali Mohammad Khademi, then the Iranian Air Force Chief of Staff was appointed as the first managing director of the national airline. He managed Iran Air for 17 years and as we will later see successfully raised it to an undisputed international rank. The late Khademi, who, as a young air force officer, had flown as a captain first on the Iranian State Airlines and later Iranian Airways aircraft, was very familiar with commercial aviation. In fact, he was the first Iranian air force officer to become a licensed commercial pilot by obtaining his number one license from Iranian Civil Aviation Department.

To many of the 700 Iranian Airways employees, the government takeover of the company, which later proved to be the turning point in the Iranian airline industry, did not produce the ambiance for cheers and celebration. Most employees were under the impression that converting the airline to a government entity would hinder its progress.

Just as the takeover was completed, the new company had a clear-cut mission and put in place a plan and a series of objectives towards building a modern, world-class national carrier.

This company, with its humble beginning steadily achieved international prestige in a relatively short time. Despite its small size, compared to the World's mega airlines, Iran Air was soon considered one of the most important players in the world of aviation. Known as the fastest growing airline in the world, Iran Air was an extremely well managed national and international airline. In few years, its manpower reached over 12,000 skilled personnel; it acquired and put into service one of the most advanced and well-maintained fleets of brand new all jet aircraft, while holding an excellent safety record among its prominent worldwide competitors. In 1970 its managing director was elected the president of IATA, the giant regulating body of the international air transportation industry. But most importantly, though it was a government-owned airline, it remained a profitable enterprise and its financial self-sufficiency was unprecedented in Iran as well as internationally for the whole period until 1979. In those days, it was quite unusual for airlines to remain profitable for so many years in a row. With a few exceptions, many large and small airlines were in the red, if not on the verge of bankruptcy. However, it's also fair to admit that while the company did not receive subsidies, it enjoyed certain concessions from the government.

Lieutenant General Ali Mohammad Khademi Khademi, for a long time and before Iran Air, had the vision of building an ultimate flag carrier for Iran.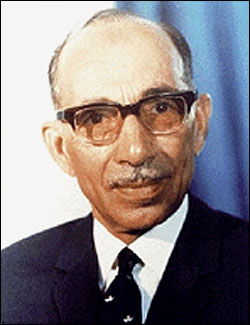 Lt. Gen. Ali Mohammad Khademi

He was a gifted, self-made, tireless, hard-working man and a management and leadership genius. He was an uncompromising fighter with unusual fortitude and self-confidence, who didn't accept anything less than perfect. Utterly fair and honest, he possessed a strong humane spirit, an extremely light heart and wonderful sense of humor. He hated favoritism and selected his colleagues on their merit. He gave young men and women, particularly those who were not from, or related to the privileged class, unprecedented opportunities for growth.

Obsessed with his dream and charged with infinite passion and stamina, he took over the airline and built a national carrier that every Iranian was proud of. While the Iran Air success story is attributed to a team of highly dedicated managers and staff, no one can ignore the fact that the history of modern aviation in Iran revolves around one person and that was Gen. Khademi, who among other things, hand-picked and coached a group of capable men and women to run Iran Air.

Khademi was a great man whose name will go down in history for the highest level of service to his country's aviation industry. Alas, the abrupt eruption of circumstances did not allow him to complete his dreams particularly the 15-year plan to expand Iran Air into one of the World's leading airlines. And a pity that Homaiyan, as he used to call the Iran Air family, and did not get the chance to give him that magnificent recognition he always deserved, during his lifetime. May his soul rest in peace.

Problems and Priorities There was great works ahead of the new company. On the one hand, building and running a world-class airline with advanced international standards in the jet age needed a fast forward attitude, quick decision-making environment and unconditional freedom of action by its management. On the other hand, the company was now a government entity and would have been expected to work within the state's frameworks and red tapes.

Since running an airline business is normally incompatible with the way government red tapes, much had to be done to overcome the difficulties and obstacles. To a great extent, this privilege was intelligently earned. Iran Air's managing director gained full authority over the airline in achieving Iran Air's objectives. The early success of gaining independence saved the company from all the bureaucratic barricades that could hinder the whole project. This special status also kept Iran Air purely commercial and away from politics.

Iran's lucrative air travel market, in the absence of a strong national carrier was, for many years, exploited by foreign airlines. To be able to exercise its full legitimate rights, it would have been necessary for Iranian delegation, which mostly included Iran Air, to hold a series of hectic bilateral meetings with one foreign government after another.

At Iran Air, in running the day-to-day affairs, a competent management, superior organization, flawless procedures and capable and trained personnel were extremely vital to the company's success. Therefore, a great number of policies and procedures were implemented. These practices are still working efficiently 40 years later.

Fleet modernization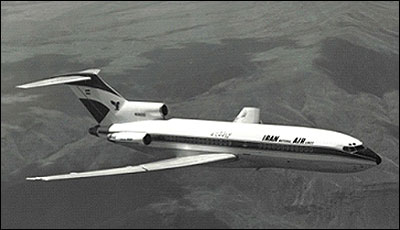 Iran Air first B727 leased jetliner in 1966

One of the other important objectives of the company was the modernization of the fleet. During early 1960s, in jet era, no advanced airline could operate with propeller airplanes. In that case transition from propeller to jetliner was a long-term and complicated process, which involved advance preparation and a series of important steps. The first complex move was choosing the aircraft manufacturer, aircraft types and the engine manufacturer.

The mixed equipment concept, i.e. buying from more than one manufacturer was immediately eliminated; because operating airplanes built by diverse manufacturers would have been a nightmare in terms of operation, maintenance and supply. Following a thorough study and investigation, a decision was made to go for different type of Boeing aircraft with Pratt & Whitney engines. The next smart concept that was to lease a B727-100 aircraft from Boeing until the time that ordered planes by Iran Air were ready. This initiative put the company in jet operation without delay.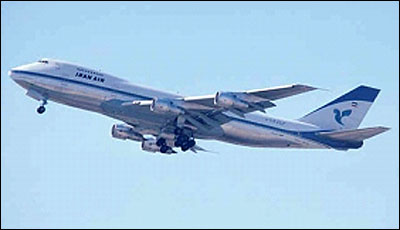 Iran Air B747 taken just after takeoff from London Heathrow on May 28, 1978.
[Picture courtesy of Howard Chaloner]

During the one-year lease period, Iran Air served a wide schedule with only one aircraft. It was not an easy task; however, two to three weekly flights to Istanbul, Rome, Geneva, Frankfurt, Paris, London, Karachi, and Bombay as well as a few flights to Persian Gulf states were operated.

Gradually, Iran Air's own aircraft arrived. The family of Boeing included: the two engines short-range Boeing 737, the smallest of all an tri-motor B727-100 and 200 were used for short to medium-range flights used mostly within Iran. The B707 used for semi-long haul regional flights. The B747-100, 200 and B747SP (special performance) aircraft were flown on long-range flights to Europe, the US and Far East. The B747SP was the newest version of B747, which, at that time was owned only by a handful of airlines like Pan American and South African airlines.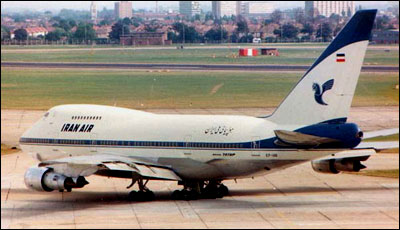 Iran Air B747SP at London Heathrow in June 1979.
[Picture courtesy of Colin Gage]

This jetliner was capable of flying, at an altitude of 44,000 feet and travel long distances, such as New York-Tehran, non-stop.

Non-stop schedule flights between New York and Tehran were introduced, but later was discontinued, because during summer time the high tempertuare in Tehran reduced the payload that resulted to less number of passengers to be carried. Finally with the arrival of six Airbuses, the Iran Air fleet grew to 35 all jet aircraft. At this stage the company carried close to five million passengers a year.

Iran Air and Concorde After the Concorde aircraft was manufactured and following the indication of Shah's interest, Iran Air put in an order to purchase the supersonic aircraft. In June 1972 British flew the Concorde to Tehran on a 30 days tour of the Middle East, the Far East and Australia.

Iran Air management devoted a lot of time studying to the Concorde project. The company experts studied the aircraft very closely and they concluded and rightly believed that the aircraft, economically and operationally, was not the right choice for Iran Air. Moreover, they were not optimistic about its future. But since buying the Concorde was Shah's decision, they had to prepare some reports to convince him that the aircraft, for several reasons, was not viable project for Iran Air.

Houshang Tajadod, Iran Air's first post-revolution managing director canceled the Concord purchase order in 1979.

Highest Priority, Flight and Passenger Safety Iran Air's highest priority of all its objectives of all times was given to aircraft, passengers and crew safety. From the very outset almost every member of management and employees, abided by Gen. Khademi's loud and clear order that gave the flight safety number one priority. There were no limitations or restrictions of any sort for this precedence. No effort or money should have been spared.

This highly valuable reputation, which, at the same time, produced some prestigious awards and certificates for Iran Air, did not come easy. This was firstly owed to the importance and the value that the company management put on safety then it was as the result of the efforts and endless endeavor of a group of highly educated, knowledge and skilled Iranian engineers and pilots.

Ahmad Nazemi, the head of Iran Air's impeccable engineering and maintenance division, as well as the group of highly qualified and competent engineers in his division, performed a great role in the company's world-renowned safety features. Ahmad Nazemi's and his team's unyielding dedication to quality control department working under his direct supervision was the cornerstone of his commitment to safety and maintaining safe aircraft. This team was a matter of pride.

Iran Air pilots too, shared the outstanding reality of the company's safety. Generally, whatever the superiority of the airline's aircraft from safety point of view, it would not serve the purpose if the pilots flying them were not competent. Iran Air personnel in particular were proud of their pilots, who were outstandingly talented, well trained and skilled. Our crewmembers inclusive of captains, first officers, flight engineers and flight attendants and other devoted members of flight operations division contributed immensely to Iran Air safety. Jamshid Azarbeigi, the competent director of operations was one extraordinary sample of a smart, fully dedicated, hardworking and extremely responsible person who looked after every small detail of the Iran Air operation division.

A research that was made to write a book about airline safety, revealed a lot of facts about all airlines. This book put Iran Air among the World's safest.

In the early 1960s, commercial aviation anticipated the future trend of air travel growth would be remarkable. Airlines started showing interest in larger jetliners to accommodate the growing numbers of air passengers. The 1970s was the decade of the wide-body or Jumbo jets and the mass transportation was a buzzword. Boeing 747, Douglas DC10s, and Lockheed L1011 were introduced into airline service at the beginning of the 1970s to replace the airplanes on the heavy traffic routes.

On March 3, 1974 the first ever wide-body aircraft, a Turkish Airline DC-10, tragically crashed in the forest of Ermenonville, near Paris. As a result of this unfortunate incident a total of 346 passengers and crew lost their lives.

An investigative book, titled "Destination Disaster," written by three British journalists was very critical of airline safety levels.

The book was the result of two years of exhaustive research into the safety of individual airlines. The writers conducted numerous interviews, investigated almost every airline, analyzed their statistics and made a number of tables and compared the safety standard of small and large airlines.

Here is what they had written about Iran Air: "As only a small amount of investigation will reveal, there are very safe airlines and not so safe airlines. That is to say, there are airlines that have the means and the ability to transport their passengers in conditions of great safety: Delta and American Airlines in the United States; the Scandinavian air-line, SAS, the Portuguese airline, TAP, Qantas and TAA of Australia, Japan Airlines and Iran Air are some of those that deserve special appreciation."

They also wrote: "The airlines are aware of the disparities and so too are aviation experts like Peter Martin, who is an English lawyer, a partner in the distinguished firm of Beaumont & Sons, which among other matters represents airlines that have obtained insurance coverage for their companies from Lloyd's of London. In times of trouble, Martin acts as a negotiator between the relatives of people killed in an air crash and the airline or Lloyd's. His clients include Turkish Airlines, and in the early part of 1975, we visited him to discuss the aftermath of the Paris crash. During the course of the interview Martin--who is naturally very knowledgeable about airlines--said: 'there are airlines [as an example he named Iran Air] that I fly with happily. There are other airlines that I would not fly with if I was paid in heavy gold."

In tables towards the end of the book, airlines have been classified in six groups, from the safest to the least safe. A note about this table says: "Inevitably, there are anomalies and some carriers have been categorized more harshly than they deserve if judged solely on their more recent records. Those airlines which had as of December 31, 1975, been accident-free for at least ten consecutive years are indicated by an *..." Iran Air is in the first of six groups of airlines and is marked by an *, with TAP, Qantas and Continental.

Pilots Trained Exclusively for Homa The initiative of training young pilots to fly exclusively for Iran Air was one the Iran Air's outstanding ideas.

For many years the company choice of employing pilots was either hiring ex Iranian air force, American and European pilots. However, the former group was not readily available and the latter was very expensive with Iranian standard. Therefore q shortage was always a problem.

In 1960s, for the first time in the Iranian airline history a group of eight most elite and highly qualified youngsters were selected from among thousands of healthy and educated applicants through a series of rigid exams. After going through initial English language and other preparations, they were dispatched to one of the best pilot training schools, the American Flyers, in the US. The first member of this group who successfully obtained his Private Pilot license, International Commercial License, Instrument Rating and Multi Engine Rating was Amir Kasravi. He later became one of Iran Air's best. The same process was repeated. This initiative produced a group of qualified and skilful Iranian pilots that gradually reduced the number of foreign pilots.

International travel Iran Air was also aiming to make international air travel affordable for all Iranians regardless of their social status or income. The purpose was two-fold. One was the educational aspect, or in other words, making it possible for the majority of Iranian to travel to other countries to get acquainted with the culture and social progress of the rest of the world. The other objective was to give the new company a boost by penetrating untapped markets. To fulfill this objective, a very clever idea was employed. The International Air Transport Association (IATA) has a resolution that gives the government of a country the right to order the national carrier to provide an airline, if ordered by a government, has to provide free or discounted passes to anyone the government names. This is called a government order. Iran Air asked the Iranian government to use this resolution and issue a standing order to Iran Air to extend the government employees, their family members, close relatives and dependants a 40% discount on full airfares on Iran Air international flights. Prior to this event, air travel to abroad was limited only to a group of affluent people. Had airfares not been almost halved, low-income government personnel, like teachers, for instance, could never afford to travel to Europe. The resulting massive increase in air travelers produced a new market and considerable source of much-needed revenue for the company.

Service expansion and decentralization In line with aircraft deliveries, the plan to increase flight frequencies and routes was implemented. All necessary elements were in place for an aggressive service expansion. Thousands of qualified staff, computerized reservation system, modern fleet, most capable flight crew, excellent engineering and maintenance team, exquisite in-flight service as well as an overall efficient management and administration system justified expansion.

After Europe, which by then, was sufficiently covered by, the U.S. services were a priority. The preliminary planning and preparation for the U.S. operation had already started and was well under way from 1970, when one of the company's smart, energetic, and capable young men, Guiv Vaziri, was assigned as Iran Air's U.S. general manager.

For a few years the U.S. head office in New York was working actively towards the launching of Iran Air services. At the same time during these years, it provided a valuable service to Iranian students in the U.S. Every summer thousands of Iranian students were transported by Iran Air, to and from Tehran with unbelievably low airfares. In 1975, the first Iran Air flight to New York JFK was launched amid a colorful ceremony. The service to Los Angeles was supposed to follow. Meanwhile, Iran Air offices in three more major cities, Los Angeles, Houston and Chicago, were opened.

Iran Air operations to U.S. continued until 1979 and terminated on November 4, 1979 until the day U.S. embassy staff in Tehran were taken hostage.

Meanwhile Far East flights to Beijing and Tokyo had started and offices in Bangkok, Manila and Singapore were opened to prepare for the establish future services. A few more points in the Persian Gulf, Middle East and Europe were added to the existing destinations. Operation of more long-range flights to Africa, Australia and South America and replacing the older aircraft and many other new concepts were part of the Iran Air's 15-year plan, which was supposed to be completed by 1990 to put Iran Air among the top 10 world airlines, which unfortunately never fully materialized.

Parallel with its ongoing expansion Iran Air was also in the process of decentralizing its activities by transferring some parts of its maintenance and operations to the center of major provinces. This meant that a small number of aircraft, crew and technicians would have been based there to perform direct flights to certain destinations and back within Iran and aboard. Operating direct flights out of Abadan and Shiraz to European destinations like Athens, Rome, Frankfurt, Paris and London and from same cities to Persian Gulf countries had made these two cities ideal to become first two bases outside Tehran. Direct flight from major cities was extremely helpful to passengers' comfort because it would avoid the hassle of traveling through Tehran airport.

Other Iran Air Businesses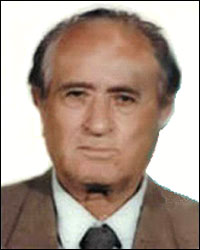 Gen. Ali A. Rafat

In 1970s, Iran Air, to a limited extent, diversified and got involved in other aviation related businesses. Homa Hotel Group acquired and managed and number of hotels. The group owned and managed hotels in Tehran, Shiraz, Persepolis, Bandar Abbas, Ramsar and Mashad. It also had started the building a new 42-story at the site of existing Homa Hotel in Tehran (former Sheraton,) which would have been the tallest building in the Middle East. In one point was in the process of buying a large hotel in London as well Intercontinental hotel chain from Pan American Airways. Iran Air Hotel Group was managed by Jubin Shekoohian, an experienced hotelier and previously Iran Air catering director. Iran Air provided airport services including passenger, ramp and in-flight catering services to most airlines calling at Tehran Mehrabad airport.

Since Iran Air was a member of IATA and was very serious about complying with its rules and regulation, it created a subsidiary called Iran Air Tours to give it some freedom and necessary flexibility.

Sport and Cultural Activities Iran Air encouraged sports among Iranian youth and was heavily involved in forming sport teams and competitions. At one point Iran Air had the best football (soccer,) volleyball and basketball teams in Iran. Iran Air football team named after the company Persian name "Homa" was Iran's best and most popular team and a national champion for many years in a row.

In regard to art and culture, the airline contributed tremendously to the promotion of Iranian arts and culture outside Iran. These activities helped to introduce Iran to people of other countries and resulted in promoting tourism.

Other Airlines prior to 1979 During this period Iran Air was established as country's national airline and designated carrier. However, another airline, Pars Air was established in 1969 by Maj. Gen. Ali A. Rafat as a feeder airline. Since Pars Air was originally supposed to operate as a feeder, it established its base and hub in Mashhad and started flying to Ferdows, Tabas and Birjand, the points Iran Air did not fly to. The first aircraft the company acquired was a 6-seater Aero Commander Shrike 500B. The airline gradually expanded its fleet and network to cover other Iranian cities with more number of flights. By 1975 Pars Air had a fleet of 5 citation jets, 20 Aero Commanders, 5 Piper Chieftains and 2 Fokker F-27's and operated scheduled in other areas.

Iran Civil Aviation Organization Just few years after the invention of airplane it was felt that aviation could not remain exclusively a national issue any longer and must be deal with internationally. France led the way and invited 18 European states to convene a conference in Paris, in 1910. During this important gathering, some basic principles in relation to aviation were laid down. The meeting led to subsequent conferences and finally Chicago Convention and start of International Civil Aviation Organization (ICAO.) This world most important aviation body and a specialized agency of UN that covers all aviation technical and operational standards and policy, officially came into existence on April 4, 1947.

The start of Iranian Airways operations in 1946 brought about the need for a government department to oversee the aviation national and international affairs in Iran. As a result, by a decree of Ghavam-o-saltaneh government, the Department General of Civil Aviation came into being within the ministry of road, which at beginning was located in Shamsol-emareh, a historical palace built in Tehran in 1865. Ahmad Shafigh was appointed to set up this new department and became its first director.

Iran's Civil Aviation Organization became a member of ICAO on July 19, 1949. This government organization changed its ministerial relation, few times, between ministries of road and defense.

8. 1979-Present, Post Revolution Years and the Era of Multiple Airlines In February 1979, just a few days after the revolution, Houshang Tajadod, a pioneer and the most senior and qualified Iran Air member of management was appointed managing director of Iran Air, by Mehdi Bazargan, Iran's first post-revolution prime minister. But this did not take long before he offered his resignation.

Ghasem Shakibnia, a former deputy minister of Post, Telephone and Telegraph in the previous governments, succeeded him. Being a member of Prime Minister Bazargan's team, he also resigned when Bazargan quitted his post, after being in the office for about five months.

Following that another Iran Air experienced member of Iran Air management, Cyrus Chaichian the deputy managing director for commercial affairs was appointed managing director. Previously, he was regional manager in Britain and the US. Well informed of company's affairs and problems, Chaichian was among the younger but mature generation of Iran Air managers who was fit for the leading role. He also resigned in fourth month of his service and returned to his original position for a short time before being removed from the company by his successor. All the above-mentioned gentlemen were capable of leading the company in the right direction had they been working under the right conditions and without interference. However, the prevailing circumstances had made it difficult for any of the experienced, top-level managers to continue their work properly and responsibly.

From 1979 until 2007, the following ten managing directors all from outside the company were appointed: Taghi Farahi, M.M. Seyed Esfahani, Mohamad Bagherian, Mohammad Sepehrirad, Hassan Shafti, Mohammad Reza Majidi, Hassan Shafti (second terms) Ahmad Reza Kazemi, Davoud Keshavarzian and Saeed Hessami.

After the revolution of 1979, the airline industry in Iran entered an entirely new phase, significantly different from its preceding 17 years. What is certain is the country now has the largest and unprecedented number of airline it ever had. While principally this could have been a good indication of a healthy competition for the benefit of traveling public, but practically it didn't prove to be a success.

At the beginning of 1980s until the end of the Iran-Iraq war in 1988, the internal and the international travel considerably reduced. This was partly due to the war and to a great extent as a result of almost full restrictions on Iranians traveling abroad. However, in 1988 following the ceasefire the sudden demand for air travel services enormously increased. The two leading state-owned airlines, Iran Air and Aseman (former Pars Air, now owned and controlled by the government) were apparently incapable adequately meeting the new growing demand. Therefore, some entrepreneurs and even government agencies, interested to have a share of the lucrative air travel market, grabbed the opportunity to lobby the government with a suggestion to make up for the capacity shortage. As a result, the government decided to abolish the airline's monopoly, relaxed the policy of awarding operating permits and reduced the initial investment capital to a meager two billion Rials for startup airlines. Subsequently, a score of waiting investors wasted no time to apply for airline operating permits. Before long the number of Iranian airlines mostly by using leased or purchasing airplanes of old Soviet countries or obsolete Western jetliners thrived. Naturally, domestic air transportation was greatly expanded and more destinations served; flight frequencies increased and more passengers carried. This hasty expansion produced chaos in the country's air transport service and stagnated the whole industry's improvement. In the absence of the government's adequate laws, regulations and policies to standardize and control airline operations, the airlines most important feature - aircraft, crew and passenger safety -- is totally jeopardized and the quality of service that is synonymous with airline industry has diminished. Consequently, we are witnessing incidents, air disasters, loss of human life as well as the ongoing traveling public total dissatisfaction and disarray.

Quality air travel is a combination of different product and service attributes. However, consistency in offering all the good values at all times is the most important issue to the final customer perception. An isolated good flight, the most modern fleet and a highly sophisticated piece of technology do not make a good airline. The most essential features airlines are identified with are: first to observe the safety procedures repeatedly. This is such an absolute necessity and vital factor that airline passengers in developed region of the world normally take it for granted. Then come comfort, the high quality of service and customer satisfaction. Naturally, with airlines, as with any other business, the profitability is also an important characteristic of the business. Now the question is whether the recent impulsive expansion of Iranian airline industry has adequately provided any of these elements or has it met any of the objectives? Apparently, it has not.

In so far as safety is concerned, after many years that Iran Air was the world champion, frequent aircraft disasters and human fatalities have given the Iranian airline industry one of the worst reputations. The passenger comfort, the basic amenities and good quality service are hardly existed and the numbers of complaints are greater than ever. Financially, the majority of Iranian airlines are in alarming state, creeping toward bankruptcy. The combination of all these troubles has driven almost half of the airlines out of business.

Iran Air after 1979 Few months after the revolution, Iran Air, the national flag carrier went through a massive transformation that changed the face of the airline in many ways. As an example, it added the descriptive phrase of "The Airline of Islamic Republic of Iran," to its name, changed the layout and the font of "IRAN AIR" and the livery of its fleet.

Following 1960s and 70s, the most glorious years of Iranian airlines industry, it is most unfortunate to witness all the work, money and dedications put in building one of the finest airline in the world is going down the drain. However, despite the deficiencies they are encountering in doing their jobs, much credit should be given to the employees as well as the group of junior and middle managers for their determination and efforts to hold on to the remnant of what was once one of the best airline in the region.

Iran Air has lost its grandeur. Its long-standing reputation for safety, quality of service and ongoing improvements is being immensely damaged and the airline is about to extinct. In the past 24 years not only its expansion and progress has come to standstill, but has regrettably regressed.

For several years, the airline chiefs have blame the US imposed trade embargo for all their problems and failures, while this blockade to acquiring new western airplanes relates exclusively to aging aircraft, which is only one of the many difficulties the airline is facing. They have numerous others problems that do not, by any means, relate to the embargo and aging airplanes.

Iran Air dilemma is the direct outcome of adopting wrong strategies, and making wrong decisions or making no decisions at the right time.

For the sake of argument, if we suppose that in few weeks, a number of brand new airplanes would replace the whole Iran Air existing fleet, would this initiative solve all the airline problems? It is very much doubted.

Let us take a look at some of Iran Air long-term plight in a short analysis. To do that we have to look back at 1979 that airline changed hand. One of the first blows to the company after the revolution was making it difficult for knowledgeable and experienced CEOs to continue their service and instead inexperience and in many cases incapable persons from outside the organization were put in charge of the company. Since 1980, unlike two earlier decades, one managing director after another was assigned to run the company. Except one of them, who had aircraft technical qualification, they were all unprofessional and totally unfamiliar with the sophisticated airline business and its problems. They needed plenty of time to be trained on the job and would they have been talented enough to learn, they were replaced before given the opportunity to put their knowledge to work.

The second damage was the sudden loss of a large number of valuable, experienced and educated managers and personnel, specialized in their own right. The collective dismissal of qualified employees for unsubstantiated foolish and fake political reasons, which later proved to be entirely unfounded and unjustified, by a bunch of ill-natured and irresponsible members of so-called purging committees was extremely destructive and irreversible. In addition to those discharged many valuable but dispirited employees being extremely disgusted by the unbearable environment left the company either voluntary or went into early retirement.

Besides, after the revolution, two things were quite obvious that called for a preemptive plan. One was the clear fact that the new Islamic regime was anti-American and that the majority of country's infrastructures and industries including Iran Air, were mainly dependant on American equipments, materials and parts. Given the anticipation that diplomatic relation with US would be ultimately interrupted and possibly an economic sanction might have followed, not a single contingency plan was drawn either by the government or by the industries' chiefs to have the country prepared for forthcoming adverse situations.

In a nutshell, although the Iran Air staff has continued to work hard despite all the difficulties, besides the safety problems, overall services, particularly the in-flight and airport services, have been deteriorated and become the subject of acute criticism by the traveling public and the nation as a whole.

In regard to the airline financial situation, sometimes ago one of Iran Air managing directors had this to say to Iran International, an Iranian English language publication:
"Last year [2000], the total income of Homa stood at Rls 3,674 billion ($ 465 million), whereas its expenses in the same period exceeded Rls 3,776 billion ($ 478 million). That means the company's operating losses stood at Rls 101 billion ($ 13 million). If left unattended, the problem - that the company is in the red - will deal a shattering blow to the airlines and will account for Rls 1,000 billion ($ 126 million) in losses.
The aging aircraft and American trade sanction have certainly has the impact on this huge loss but hardly is the reason for the whole crisis. Normally, a business loss of this magnitude is the consequence of lack of professional management and adequate strategy and if adequate planning is not implemented to improve the situation quickly, the worst situation will come even if sufficient number of new aircraft are procured and put into operations.




About the author:
Abbas Atrvash a former Iran Air executive is the Author of The History of Iranian Commercial Aviation (in Persian), the only comprehensive book on the subject.