History of Iran

Parthian Battery (Ancient Iranians, The Inventors of Battery)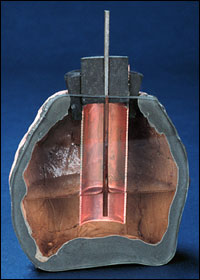 Parthian Battery

In June, 1936, while a new railway was being constructed near the city of Baghdad workers uncovered an ancient tomb. In the excavation that followed it was determined that the tomb was built during the Parthian period which ranged from 250 BCE to 250 CE (+/-).

According to most texts the "voltic pile," or electric battery, was invented in 1800 by the Count Alassandro Volta. Volta had observed that when two dissimilar metal probes were placed against frog tissue, a weak electric current was generated. Volta discovered he could reproduce this current outside of living tissue by placing the metals in certain chemical solutions. For this, and his other work with electricity, we commemorate his name in the measurement of electric potential called the volt.

The little Parthian jar found in ancient Western Iranian territories of Greater Iran (now Iraq), suggests that Volta didn't invent the battery, but reinvented it. The jar was first described by German archaeologist Wilhelm Konig in 1938. The jar was found in Khujut Rabu just outside modern Baghdad and is composed of a clay jar with a stopper made of asphalt. Sticking through the asphalt is an iron rod surrounded by a copper cylinder. When filled with vinegar - orany other electrolytic solution - the jar produces about 1.5 to 2.0 volts.

The jars are believed to be about 2000 years old from the Parthian period (The third Iranian dynasty ruled roughly 248 BCE to 28 April CE 224), and consist of an earthenware shell, with a stopper composed of asphalt. Sticking through the top of the stopper is an iron rod. Inside the jar the rod is surrounded by a cylinder of copper. Konig thought these things looked like electric batteries and published a paper on the subject in 1940.

World War II prevented immediate follow-up on the jars, but after hostilities ceased, an American, Willard F. M. Gray of the General Electric High Voltage Laboratory in Pittsfield, Massachusetts, built some reproductions. When filled with an electrolyte like grape juice, the devices produced about two volts.


Not all scientists accept the "electric battery" description for the jars. If they were batteries, though, who made them and what were they used for?

Unfortunately, there is no written record as to the exact function of the jar, due to destruction of Iranian literary sources and libraries by Arabs upon invasion of Iranian territories in 7th century CE, but the best guess is that it was a type of battery.

Scientists believe the batteries (if that is their correct function) were used to electroplate items such as putting a layer of one metal (gold) onto the surface of another (silver), a method still practiced in Greater Iran today.