History of Iran

Mirza Reza Kermani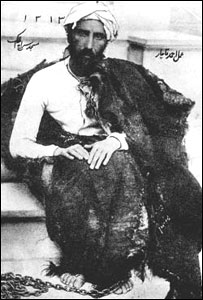 Mirza Reza Kermani

Mirza Reza Kermani was born in Kerman. His father, Molla-Hossein Aqdaee (Molla-Hossein Pedar) was from Yazd. He had left his homeland and lived in Kerman. Mirza Reza was called Mirza Reza Kermani because his birth was in that city.

Mirza Reza lost his father during his childhood and had to work on the farm, which he had inherited it from his father. But because of oppressions of the despotic government, he put aside the farming and immigrated to Yazd. He studied Qoran and religion rules at one of the religious schools for a long time. He was called as Mirza Reza Kermani from that time.

By the guidance of Ayatollah Shirazi, Ashtiyani and Seyyed Jamal-o-Din Asadabadi he revealed all the injustices of Qajar Dynasty and especially Naser o-Din Shah's regime and informed people about the crimes of the government of U.K.

On the other hand, Naser o-Din Shah did not perform the people's wills and intensified his harshness. Finally at the beginning of 50th anniversary of his monarchy on 1 may 1896, Shah was shot by Mirza Reza Kermani at the shrine of Shah Abdul Azim in city of Rey.

Mirza Reza Kermani was captured and after several days of interrogations and torture finally on August 12, 1896 was hanged.