History of Iran

Xerxes (Khashayar Shah)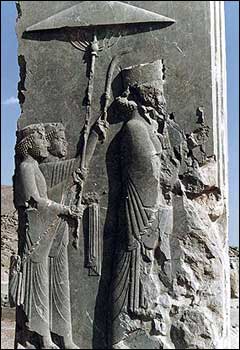 Xerxes (Khashayar Shah)

Xerxes (Khashayar) was born around 520 BCE in the southern province of Persis (Fars). He was a powerful king who ruled Achaemenid (Persian) Empire from 486-465 BCE. Xerxes was Darius The Great's eldest son by Queen Atosa (daughter of Cyrus The Great). He had been designated official heir perhaps as early as 498 BCE, and while crown prince he had ruled as the King's governor in Babylon.

The new king quickly suppressed the revolt in Egypt in a single campaign in 485 BCE. Xerxes then broke with the policy followed by Cyrus The Great and Darius of ruling foreign lands with a fairly light hand and, in a manner compatible with local traditions, ruthlessly ignored Egyptian forms of rule and imposed his will on the rebellious province in a thoroughly Persian style. Plans for the invasion of Greece begun under Darius were then still further delayed by a major revolt in Babylonia about 482 BCE, which also was suppressed with a heavy hand.

Xerxes then turned his attention westward to Greece. He wintered in Sardis in 481-480 BCE and thence led a combined land and sea invasion of Greece. Northern Greece fell to the invaders in the summer of 480 BCE, the Greek stand at Thermopylae in August of 480 BCE came to nought, and the Persian land forces marched on Athens, taking and burning the Acropolis. But the Persian fleet lost the Battle of Salamis, and the impetus of the invasion was blunted.

Xerxes, who had by then been away from Asia rather long for a king with such widespread responsibilities, returned home and left Mardonius in charge of further operations. The real end of the invasion came with the Battle of Plataea, the fall of Thebes (a stronghold of pro-Persian forces), and the Persian naval loss at Mycale in 479 BCE. Of the three, the Persian loss at Plataea was perhaps the most decisive. Up until Mardonius was killed, the issue of the battle was probably still in doubt, but, once leaderless, the less organized and less disciplined Persian forces collapsed. Time and again in later years this was to be the pattern in such encounters, for the Persians never solved the military problem posed by the disciplined Greek hoplites.

The formation of the Delian League, the rise of Athenian imperialism, troubles on the west coast of Asia Minor, and the end of Persian military ambitions in the Aegean followed rapidly in the decade after Plataea. Xerxes probably lost interest in the proceedings and sank deeper and deeper into the comforts of life in his capital cities of Susa, Ecbatana, and Persepolis. Self-enjoyment was steadily sapping the strength and vitality of the Achaemenid Empire, led to the assassination of the Great King in 465 BCE -probably upon order by one of his sons, Artaxerxes, who succeeded him-.




Achaemenid Army

The History of Herodotus
440 BCE, A reference of Persian Empire's history of Achaemenian era.



Old Persian Cuneiform
The official script of the Achaemenid Empire