Persian Language & Literature

Forough Farrokhzad
The most famous woman in the history of Persian literature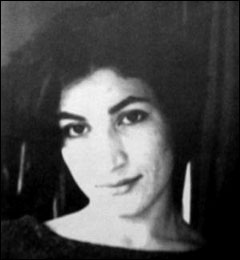 Forough Farrokhzad

Forough Farrokhzad was born on January 5, 1935 in Tehran into a middle class family of seven children (the third of seven children). She attended public schools through the ninth grade, thereafter graduating from junior high school at the age of fifteen; she transferred to Kamalolmolk Technical School, where she studied dressmaking and painting.

In 1951 at sixteen Forough married her cousin Parviz Shapour over the objections of families mainly because of Shapour's age. And a year later Forough's first and only son "Kamyar" was born. Frough separated from Parviz Shapour in 1954. Forough relinquished her son to her ex-husband's family in order to pursue her calling in poetry and independent life style.

In 1955 Forough's first collection, titled Asir (The Captive), contains forty-four poems was published. And in September that year she suffered a nervous breakdown and was taken to a psychiatric clinic.

In July 1956 Forough left Iran for the first time on a nine-months trip to Europe. In this year her second volume of verse, containing twenty-five short lyrics, called Divar (The Wall), was published, dedicated to her former husband.

In 1958 Forough's third collection Esian (Rebellion), appeared and securely established her as promising yet notorious poet. Forough's relationship with the controversial writer and cinematographer Ebrahim Golestan began and remained important in the poet's personal life until her death.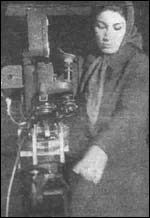 Forough Farrokhzad
as film maker

In 1962 she made a documentary movie about a leper's colony, titled "The House Is Black". The movie was acclaimed internationally and won several prizes.

In 1963 UNESCO produced a thirty minutes movie about Forough. Also Bernardo Bertolucci came to Iran to Interview her and decided to produce a fifteen minutes movie about the poet's life.

In 1964 Forough's fourth poetry collection, Tavallodi Digar (Another Birth), contained thirty-five poems which the poet had composed over a period of nearly six years was published.

In 1965 Forough's fifth collection of verse called "Let Us Believe In The Beginning Of The Cold Season" is in print and was published after her death.

On Monday February 14, 1967 Forough visited her mother, who later recalled their conversation over lunch as the nicest that they ever had. From her mother's home, on the way back, with Forough driving, at the intersection of Marvdasht and Loqumanoddowleh Streets in Darrus, her jeep station wagon swerved to avoid an oncoming vehicle and struck a wall. Thrown from her car, at the height of her creativity and barely thirty-two Forough Farrokhzad died of head injuries. She was buried beneath the falling snow in the Zahiro-Doleh in Tehran.

She clearly voices her feelings in the mid-1950s about conventional marriage, the plight of women in Iran, and her own situation as a wife and mother no longer able to live a conventional life in such poems as "The Captive", "The Wedding Band", "Call to Arms", and "To My Sister". As a divorcee poet in Tehran, Farrokhzad attracted much attention and considerable disapproval. She had several short lived relationships with men, and "The Sin" describes one of them.




The Captive [ Asir ]

I want you, yet I know that never
can I embrace you to my heart's content.
you are that clear and bright sky.
I, in this corner of the cage, am a captive bird.

from behind the cold and dark bars
directing toward you my rueful look of astonishment,
I am thinking that a hand might come
and I might suddenly spread my wings in your direction.

I am thinking that in a moment of neglect
I might fly from this silent prison,
laugh in the eyes of the man who is my jailer
and beside you begin life anew.

I am thinking these things, yet I know
that I can not, dare not leave this prison.
even if the jailer would wish it,
no breath or breeze remains for my flight.

from behind the bars, every bright morning
the look of a child smile in my face;
when I begin a song of joy,
his lips come toward me with a kiss.

O sky, if I want one day
to fly from this silent prison,
what shall I say to the weeping child's eyes:
forget about me, for I am captive bird?

I am that candle which illumines a ruins
with the burning of her heart.
If I want to choose silent darkness,
I will bring a nest to ruin.




The Wedding Band

The girl smiled and said: What
is the secret of this gold ring,
the secret of this ring that so tightly
embraces my finger,
the secret of this band
that sparkles and shines so?
the man was startled and said:
it's the ring of good fortune, the ring of life.

Everyone said: Congratulations and best wishes!
the girl said: Alas
that I still have doubts about its meaning.

The years passed, and one night
a downhearted woman looked at that gold band
and saw in its gleaming pattern
days wasted in hopes of husbandly fidelity,
days totally wasted.

The woman grew agitated and cried out:
O my, this ring that
still sparkles and shines
is the band of slavery and servitude.




Call to Arms

Only you, O Iranian woman, have remained
In bonds of wretchedness, misfortune, and cruelty;
If you want these bonds broken,
grasp the skirt of obstinacy

Do not relent because of pleasing promises,
never submit to tyranny;
become a flood of anger, hate and pain,
excise the heavy stone of cruelty.

It is your warm embracing bosom
that nurtures proud and pompous man;
it is your joyous smile that bestows
on his heart warmth and vigour.

For that person who is your creation,
to enjoy preference and superiority is shameful;
woman, take action because a world
awaits and is in tune with you.

Sleeping in a dark grave is happier for you
than this abject servitude and misfortune;
where is that proud man..? Tell him
to bow his head henceforth at your threshold.

Where it that proud mane? Tell him to get up
because a woman is here rising to battle him;
her words are the truth, in which cause
she will never shed tears out of weakness.




To My Sister

Sister, rise up after your freedom,
why are you quiet?
rise up because henceforth
you have to imbibe the blood of tyrannical men.

Seek your rights, Sister,
from those who keep you weak,
from those whose myriad tricks and schemes
keep you seated in a corner of the house.

How long will you be the object of pleasure
In the harem of men's lust?
how long will you bow your proud head at his feet
like a benighted servant?

How long for the sake of a morsel of bread,
will you keep becoming an aged haji's temporary wife,
seeing second and third rival wives.
oppression and cruelty, my sister, for how long?

This angry moan of yours
must surly become a clamorous scream.
you must tear apart this heavy bond
so that your life might be free.

Rise up and uproot the roots of oppression.
give comfort to your bleeding heart.
for the sake of your freedom, strive
to change the law, rise up.




The Sin [ Gonah ]

I sinned a sin full of pleasure,
In an embrace which was warm and fiery.
I sinned surrounded by arms
that were hot and avenging and iron.

In that dark and silent seclusion
I looked into his secret-full eyes.
my heart impatiently shook in my breast
In response to the request of his needful eyes.

In that dark and silent seclusion,
I sat dishevelled at his side.
his lips poured passion on my lips,
I escaped from the sorrow of my crazed heart.

I whispered in his ear the tale of love:
I want you, O life of mine,
I want you, O life-giving embrace,
O crazed lover of mine, you.

desire sparked a flame in his eyes;
the red wine danced in the cup.
In the soft bed, my body
drunkenly quivered on his chest.

I sinned a sin full of pleasure,
next to a shaking, stupefied form.
O God, who knows what I did
In that dark and quiet seclusion.