Persian Language & Literature

Gholamhossein Sa'edi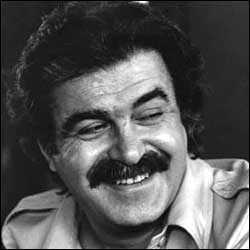 Gholamhossein Sa'edi

Gholamhossein Sa'edi ( 1935/6 - 1985 ), writer of fiction, dramatist (under the pen name Gowhar Morad), editor and political activist, was born and raised in Tabriz of an educated Azarbaijani family.

He graduated from the medical school at Tehran University specializing in psychiatry. For most of his career as a physician, he was in general practice in South Tehran, charging his patients whatever they could afford, that being a symptom of his commitment to social reform.

Sa'edi published six collections of short stories in the 1960s and early 1970s: Shabneshini-e Bashokouh [The Splendid Soiree] (1960), Azadaran-e Bayal [The Mourners of Bayal] (1964), Dandil (1966), Vaheme-haye Bi Nam-o Neshan [Unidentifiable Worries] (1967), Tars-o Larz [Fear and Trembling] (1968), and Gour-o Gahvareh [The Grave and Cradle] (1972). A story from the last named collection inspired the important motion picture Dayereh-e Mina [The Blue Cycle] (1977).

Sa'edi also published a novel in 1968 called Toup [The Cannon] and numerous stage plays during this period. He also founded and edited the important journal Alefba (nos. 1-6, 1973-1976). But government censorship and a period of incarceration from mid-1974 to mid-1975 kept Sa'edi from further publishing until the Revolution. He consequently sought to leave Iran in the late 1970s. While in the States in 1978, he spoke out on Iranian censorship and political oppression (e.g., "Thought: Manacled", New York Times, 21 July 1978, p. 25).

Much of Sa'edi's work is available in translation, for example: Dandil, Stories from Iranian Life (1981), Fear and Trembling (1984), and The Cow, a screenplay, based on a story from Mourners of Bayal, which appeared in Iranian Studies 15, a volume dedicated to Sa'edi. His stories "Chatr" [Umbrella] and "Geda" [Beggar], first published in Sokhan in 1962, appear in translation in Literature East & West 20 (1980). His story called "Zanburak'khaneh" from The Grave and the Cradle is translated as "The Wedding" in Iranian Studies 8 (1975). Translations of several of his plays appear in anthologies called Modern Persian Drama (1987) and Iranian Drama (1989).

In the early 1980s, Sa'edi went underground in Tehran and managed to flee Iran, ending up in Paris. There he published seven or eight issues of a rejuvenated Alefba magazine and wrote screenplays, stories, and political essays. Depressed in exile and in failing health, he died in Paris in late 1985.