Music of Iran

Loris Tjeknavorian
The most respected composer of music for Iranian films and Operas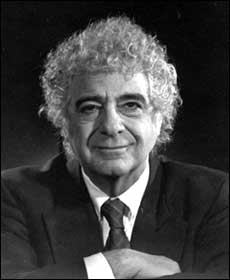 Loris Tjeknavorian

Loris Tjeknavorian was born in 1937 in Boroujerd. In early childhood his family moved to Teheran where Loris started his education and graduated from Tehran College of Arts. His father was a scholar who had written several books and he sent Loris to Vienna to complete his studies. But before his departure Loris had directed the Tehran Symphonic Orchestra in the Armenian Club and played several important musical pieces known in the world. Tjeknavorian is perhaps the first Iranian citizen who directed the symphonic orchestra at the early age of 17.

He attended the Academy of Music in Vienna and Motszartium Academy, Salzburg, where he graduated as music compositor, and returned to Tehran.

Tjeknavorian started his business in the cinema by producing his first song in the Snake's Skin feature film in 1962 and from 1962 to 1994 at those periods when he was in Iran he composed songs for 28 feature films and documentaries.

So far Tjeknavorian has composed songs for the following documentaries:
1970: A Land, A Rose, A Path, directed by Khosrow Sinaie.
1970: Iran, I Love Iran (A Tourist in Iran), directed by Khosrow Sinaie.
1972: Hajj Mosaverol Maleki, directed by Khosrow Sinaie.
1972: Abadan, directed by Manoochehr Tayab.
1973: Chehel Sotoon, directed by Manoochehr Tayab.
1973: The Eight Day of the Week, directed by Rajaiyan.
1973: Hasht Behesht (Eight Paradises), directed by Manoochehr Tayab.
1973: Ali Qapoo, directed by Manoochehr Tayab.
1975: Let Us Hope for Another Meeting (a report on 1975 Asian Football Games), directed by Hooshang Shafti.
1975: Astane Qodse Razavi and Safavid Architecture, directed by Manoochehr Tayab (which received the Delqan Gold prize from the 12th international educational films festival in Tehran).
1975: A Glance at the Past, directed by Jamshid Nersi.
1975: Ganjali khan's series, directed by Homayoon Poormand.
1975: Seljuk Architecture, directed by Manoochehr Tayab.
1975: Timurid Architecture, directed by Manoochehr Tayab.
1975: Ilkhani Architecture, directed by Manoochehr Tayab.
1975: Geometrical Isfahan, directed by Manoochehr Tayab.
1977: Iranian Scenes, directed by Hooshang Shafti.
1978: Portrait of An Epic, directed by Manoochehr Tayab.
1993: He Who Moved Atop the World, directed by Manoochehr Tayab.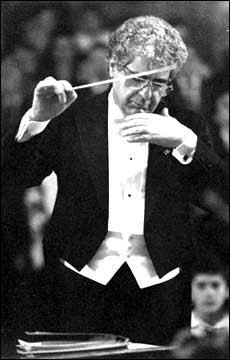 Loris Tjeknavorian is very interested in genuine Iranian music and the impact of Iranian national music is manifest in his works. He resorted to Iranian musical instruments to produce music for the Bita feature film in which Faramarz Payvar played the Santoor and Hasan Nahid played the flute. Tjeknavorian also organized an exhibition of national Iranian musical instruments in the Goethe Institute. At that juncture Tjeknavorian traveled to the United States to receive education in orchestra directing and graduated in that field from Michigan University.

In 1970 Tjeknavorian returned to Iran and started to work with the Tehran opera orchestra. Loris lived many years in Vienna, New York and London. In London he repeatedly directed the Royal Halls, Barbican and Royal Festival Hall orchestras. Tjeknavorian has conducted many famous orchestras in the world including the London Philharmonic Orchestra, British Royal Philharmonic, Liverpool Royal Philharmonic, London Symphonic Orchestra, Helsinki Philharmonic Orchestra and British Chambers Orchestra. He has toured Japan, Far East, Europe, ex-Soviet states, the United States, Mexico and Brazil where he has directed orchestras and conducted concerts.

He is an outstanding orchestra director who has been chosen by well known music composers and has recorded many musical pieces which has been received very well by the musical commentators. Tjeknavorian has produced over 40 works which displays his talent and creativity in music composition including 5 symphonies, two operas namely the Rostam and Sohrab and Pardis and Parisa. He has also published chambers conservator musical notes. Ottelo, his last work, which is based on Shakespear's masterpiece, was conducted by London Symphonic Orchestra under Tjeknavorian's direction. In 1989 Loris was appointed the director of Armenian Philharmonic Orchestra and had made successful visits to Vienna, Germany, the United States and Greece at the head of his orchestra. In 2000, Tjeknavorian resigned from this position in order to be able to devote more time to composing and conducting other orchestras. Loris has composed music for 4 features films including The Ballet in the Moonshine directed by Anzodol Vinchenz in 1969, Bita, directed by Hezhir Dariush in 1972, Violation directed by Hamid Mesdaqi and Tangsir directed by Amir Naderi in 1973.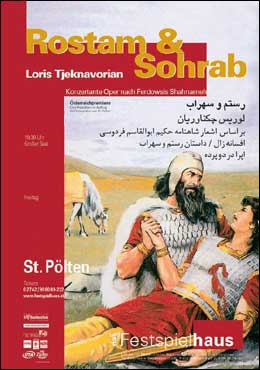 Opera of Rostam and Sohrab in Austria,
Loris Tjeknavorian Composer & Conductor

Commenting on songs composed by the well known compositor of Tangsir feature film, Mostafa Zamani says:
"After Hananeh, Loris is the most respected and efficient composer of music for films among the old musicians. In certain scenes he is so skilled and artful which makes you astonished. One must look at its sympathetic and epic value from the director's or Tjeknavorian's optics to assess his work. Anyhow Loris is one of the music composers who produced songs for music only when he had incentive or a specific mission... Tjeknavorian's short yet valuable record proves that he has not been after gain or fame at a time that he could easily have mixed ugliness and beauty in his works."
In 1995 Loris Tjeknavorian traveled to Iran for the first time as the head of Armenian Philharmonics Orchestra. When he was questioned by a journalist about the impact of the Armenian orchestra or the first appearance of a big foreign orchestra in Iran since 1978 on the cultural ties between Iran and Armenia, Loris said:
"First of all let us not use the term `foreign orchestra.' You know that the Iranians and Armenians have several thousand years of neighborly relations and during all these years they have been friends and brothers and their only difference is difference of culture. The Armenians and the Iranians are creative and their outlook towards life and values of life is often common. Therefore, let us not apply foreigner to Armenian citizens or say that the Iranians are alien to Armenians. We really feel at home in Iran and this is the feeling of all the members of the orchestra. The warm reception by the people has proven that they are looking at us as their brothers and friends. During the execution of the concert a very friendly and intimate atmosphere swayed the music hall which was very delightful and unforgettable. In fact the presence of the Armenian orchestra can serve as a cultural bridge between Tehran and Yerevan. We have always been together and must remain so."