Music of Iran

Googoosh
The most celebrated Iranian pop artist of all times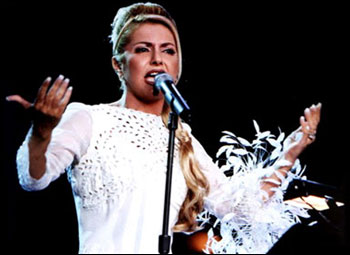 Googoosh, Tour of 2000

Googoosh was born Faegheh Atashin in 1951 on Sarcheshmeh Street, in an old part of Tehran, to Azerbaijani immigrant parents from the former Soviet Union. When she was two, they separated. Because of her father's profession - he was an acrobat and an entertainer - she grew accustomed to the stage early on, and was part of his act until she was three. She began doing impersonations of some of the singers of the time. When her father discovered this talent, he put her on stage. She has been on stage as a paid professional since she was three.

She had one brother who, at the age of 24, was struck by heart rheumatism and passed away. She has three half-brothers on her father's side and a brother and sister on her mother's side.

Googooosh's mother was separated from her father when Googoosh was young, Googoosh never got a chance to live with her. Her mother later remarried and as a result, Googoosh didn't see her again until she was 13. For a while she was even told that her mother had passed away - so that she wouldn't ask for her on the road.

Googoosh lived with her stepmother, and didn't enjoy a very good home life. But she was occupied with school and performances, and was kept busy with household chores. She was also in charge of one of her brothers.

The name "Googoosh" is an Armenian name but for a boy and was given to her at birth. But because it was a boy's name there was a problem registering the name on her birth certificate. As a result, her registered name is Faegheh.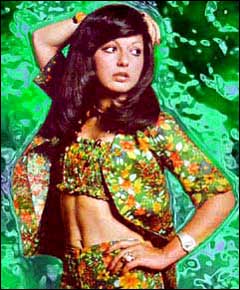 Googoosh, ca 1970

During the 1970's Googoosh began a meteoric rise to fame and success as she drove the edge of Iranian pop music further and further. Known for her flamboyant outfits, and fashion sense, Googoosh wowed her pop culture hungry fans in Iran and abroad with her trademark hairdos and hip-elegant style. Iranian women changed hairdos with Googoosh and she was always one step ahead of them with a new look.

Googoosh's private life was not quite so successful and a series of bad marriages and abusive relationships followed. She has one son, Kambiz, of her first marriage.

After the Islamic revolution in Iran in 1979, Googoosh, like other artists, had been forbidden from performing and her material had been banned. She kept herself occupied at home, taking care of her house and reading. Whereas she had no intentions of leaving Iran, she adapted to her new life.

In the early 1990's she met Massoud Kimiaei -now her husband-, and on their first date he took her to a private recording studio in Tehran and after years of silence she put on her headphones, and started to sing for the first time in years.

Finally Googoosh in year 2000 left Iran and start a concert tour that spanned the globe. Amazingly after so many years been away from the scene her concerts were all sold out. It showed her extreme popularity among Iranians and non-Iranians.




To see and read more about Googoosh please click here (www.googoosh.com)